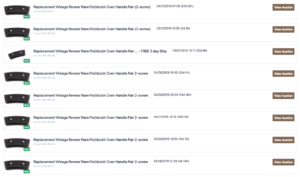 We wrote a post on eBay retail arbitrage, termed by them as drop-ship listings, in 2017.  Since then, the problem has only gotten worse, with something around 150 currently listed items on eBay that are merely fronts for our parts sold on Amazon.com.
To refresh your memory on how this works, someone lists something currently sold on Amazon.com on eBay, with a markup.  When the order is placed on eBay, they have software that automatically places the order on Amazon.com with the eBay purchaser as the recipient.
We don't like it as we prefer our customers get the items at a more reasonable price, and it can result in some odd activity on the other end when such drop-shipping sellers leave us negative feedback on Amazon.com; negative feedback on Amazon.com is a huge problem as compared to eBay.  on eBay, most buyers are motivated to leave feedback, whether they had a good or bad experience.  An Amazon.com, feedback is not at all integrated into the ethos of the site; there are disproportionately more negative feedback reviews per sales volume than on eBay because most of the people with a positive experience don't bother to leave feedback.
eBay has a policy against drop-shippers that don't actually hold inventory.  However it appears they don't actually enforce this policy (see the chat with eBay support in that article).
In any event, what we worry most about is the damage to our brand that a poor buying experience can have.  What I mean by that is, our primary purpose in selling these parts is to make people happy and to provide them with a satisfactory buying experience.  Given the pain that Revere Ware owners went through for decades before we came on the scene 10 years ago.  Most people are thrilled that our parts are available, and we don't want to temper that with a bad experience.
So, please buy our parts from our own website or Amazon.com, not from eBay, as we don't list any parts there.