Archive | September, 2017
We found this vintage griddle on eBay, one of our favorite Revere Ware items.  It looks to be in pretty excellent shape.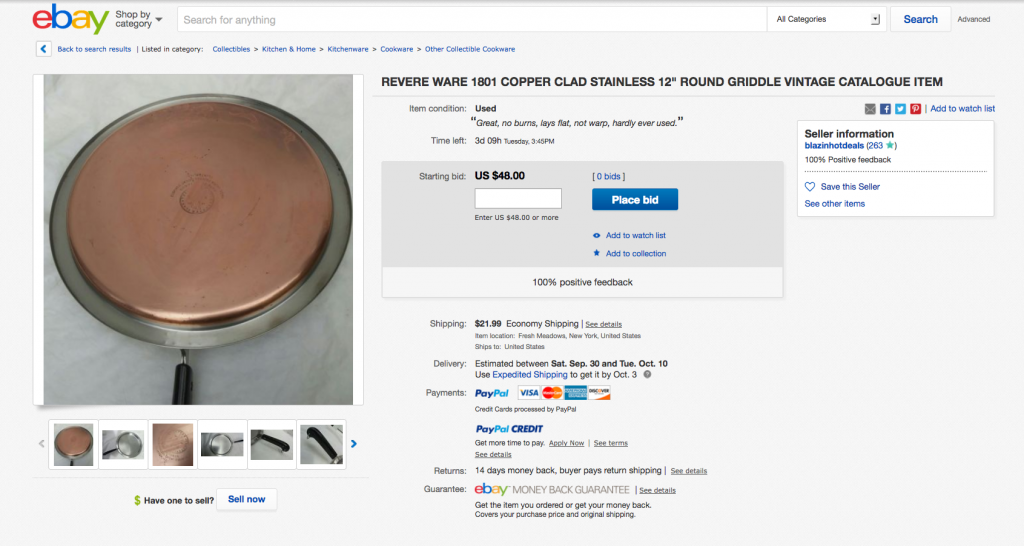 Customer Judy perfectly captured our thoughts on Revere Ware with this comment:
When I married in 1979 it was very hard to find Revere cookware. I know it was still being made, but it was not easy to find unless you lived in larger urban areas. My mother had (& still has) Revere. However, she wasn't going to let me have it. When my last cookware needed replacing, I was in a pickle. I was fed up with imported junk and could not find anything I liked. Then, I came across a small used pot and bought it. It was love at first cook. Even with a ding and slight warp in the bottom, it cooked better than anything I have ever owned. Since then I have been a regular at second hand stores looking for Revere cookware. I love it. Today I found a skillet with double circle stamp. Someone once asked me it I was going to resell a piece that I had in my buggy. NEVER!