A Photographic History of Revere's Product Lines
Credit for the photo guide goes to Charlie Anjard of The Shine Shop.  For many years before we started collecting and providing information, and selling replacement parts, Charlie meticulously and painstakingly gathered this information on the history of Revere Ware, and provided a service to refurbish Revere Ware cookware and Bakelite parts.  His restoration process was labor intensive but meticulous.  He sold his cookware on eBay branded as NTN – next to new and they really did look as good as new.  This photo guide has proved invaluable over the year and is much of what we now know about the history of Revere Ware products.

The Foundation Years (1780's – 1932)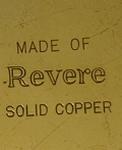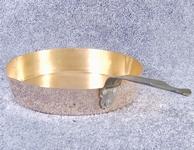 Prior to 1800, Paul Revere was first a master silversmith, then a patriot general in the Revolutionary War. and finally a foundry owner – manufacturing copper/brass/bronze castings for ships (bells, cannon, fittings, nails, spikes, etc.) and rolled copper sheets (cladding, applied to the hulls of wooden ships). Revere began producing cookware in 1892, when little thought was given to design, other than to make it functional. Stove-top and oven-ware were typically heavy (made from cast iron, copper, or bronze), while lighter tinware (made from several pieces of pressed copper which were then soldered together and tin plated) was used for kettles, cups, and tableware. The first aluminum cookware was introduced in 1892 by Pitsburgh Reduction Company (later renamed ALCOA). Revere's early products included skillets with heavy copper bodies, straight sides, and flat uninsulated iron handles. By 1900, Revere & Son had merged with the Taunton-New Bedford Copper Company, located in New-Bedford, Massachusetts.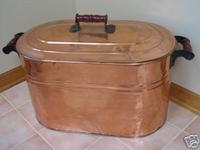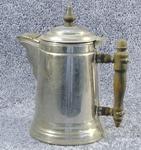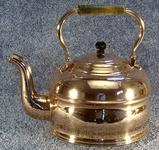 Rome Manufacturing was established in 1892 as a division of Rome Brass & Copper with manufacturing facilities in Rome, NY. It produced a wide variety of household products (by the 1920's it claimed to have made over 10,000), including kettles, washtubs, stills, bed-warmers, sauce pans, skillets,  tea kettles and coffee pots. The Rome plant was updated in the mid 1920's and boasted the latest equipment and most modern laboratories in the industry.
The 1928 merger of five northeastern copper manufacturers including Taunton-New Bedford (with Revere & Son); and Rome Brass & Copper took the name Revere Copper and Brass Corporation, at the time, the largest copper manufacturer in the US.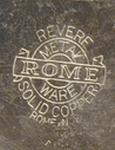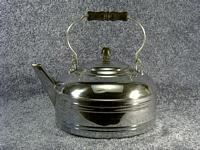 Most of its copper production was sold to the Architectural (metal roofs & gutters), Industrial (refrigeration systems, boilers, cooling water condensers), and Electrical (motors and switches) markets. Cookware production (then a minor facet of its business) was assigned to the recently upgraded Rome Manufacturing plant in NY. The relative importance of each company could be judged by their prominence in the hallmark stamped on the products: at first Revere & son was virtually an afterthought.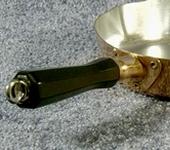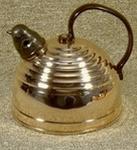 Bakelite – the first heat resistant plastic (introduced by Revere in the late 1920's) and Stainless Steel (first used for commercial cookware by the Polar Ware Company in 1927) would become central to the development of modern cookware. Initially however, they were difficult to adapt to the manufacturing methods of the time. Stainless steel was unsatisfactory as a cooking surface (a poor heat conductor, it tends to burn food rather than cook it). Molding Bakelite proved to be a challenge, restricting it's use to simple, heat sensitive parts (whistle caps and teakettle handles) while more extensive use waited until the 1940's. Essentially, Revere's cookware lines relied on the existing tin lined copper cooking surface and old fashioned wooden handles through the 1930's, during which all reference to Rome Manufacturing was dropped from the hallmark.
The Evolution of Revere Ware(1932-1949)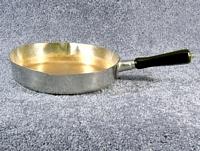 In 1932, Chester McCreery (an ex-Rome Manufacturing salesman) suggested that substituting chrome for the the tin lining then used in Revere's copper cookware would improve it's durability – this production change was made before testing could be completed, and users quickly found that under certain conditions (frying potatoes together with salt) caused the bond between the copper and chrome to fail and the chrome flaked off! McCreery's initiative (although an embarrassing failure) was respected – he remained at Revere for the rest of his life, eventually becoming Vice President of Manufacturing at the Revere's Riverside plant in 1952.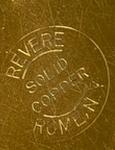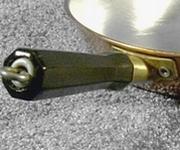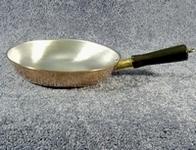 The chrome failure resulted in new management being sent to the Rome plant, with the directive to "Make something useful!". Starting from a clean slate, priority was given to changes that would be of genuine benefit to the user, rather than merely cosmetic. A new cooking surface was needed – one which retained the cooking qualities of tin-lined copper, but with increased durability. User comfort (reduced weight and longer, wider handles) and cleaning ease (seemless construction, rounded courners, and rivetless construction) were important. Finally, the trend towards "waterless cooking" required steam condensing lids to retain moisture and nutrients.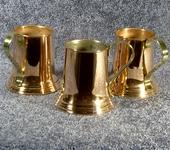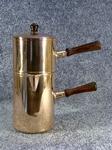 While research continued on the new cookware, the Manufactured Products Division continued to produce their existing line of cookware at the Rome NY factory, developing additional expertise in high-quality metal forming techniques. During this period, the basic designs for the future coffee pot and tea-kettle lines were conceptualized.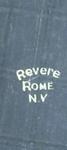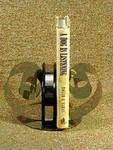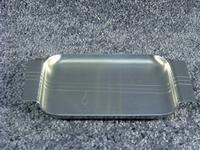 The Manufactured Products Division also produced a high quality line of Giftware products from 1935 until 1941. Competing with Chase, Manning-Bowman, Kensington, and others, Revere commissioned the services of well known industrial designers to produce luxury goods with a clean, modern look, emphasizing the use of chrome plated metalware – which became the core of "Art Deco" styling movement. Unfortunately, this line was shut down in 1941 – due to the conversion to wartime production – and was never restarted. The designs and tooling were sold soon afterwards and continued in production under other names (National Silver Co. among them). Several of the designs (including the Fred Farr "Scroll Bookends", the "Five O'clock Trays" of Norman Bel Geddes, and the William A. Welden's "Teakettle" (which became part of the Revere Ware line) are now considered classic examples of Art Deco design.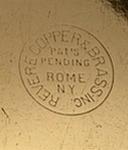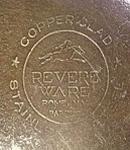 Two+ years spent evaluating alternatives and developing new production techniques produced a copper clad, stainless steel cooking surface; an easy-to-clean, rivet-free design; tight fitting "vapor seal" rims; and comfortable, easy to hold Bakelite handles – radical changes to the conservative cookware industry. Revere combined them all in 1939 when it introduced Revere Ware at the Chicago houswares Exposition. One issue had not been settled – a final decision had not been reached on the trademark design so the "Riding Revere" mark (later used exclusively by the >Mill Products Division) was applied to the earliest production.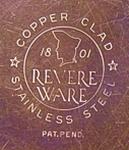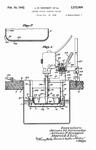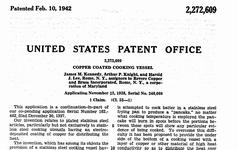 Revere had applied for patent protection on it's copper cladding process in 1938 (the patent was officialy granted in 1942). Revere included the notation "Pat. Pend." (Patent Pending) in the hallmark used on cladded products produced between 1938 and 1946. (Here is the patent on Google Patents or as a pdf file.)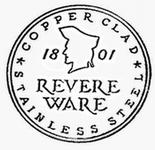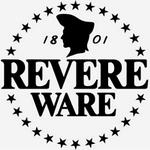 In 1946, the Revere Ware name was registered as a trademark, and the familiar circular logo started to appear on product. The "1801" notation on the mark referred to the year Paul Revere produced his first sheets of copper cladding in his original facility (not to the stainless alloy used (304) or the cookware model # (1400) ).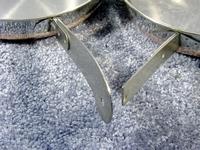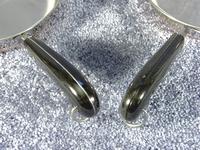 Revere Ware was not a without it's problems – The Bakelite handles quickly showed themselves as a weak point – they cracked and fell apart due to excessive flexing of the metal spine and overly brittle Bakelite castings. The fix was delayed by WWII (preceeded by at least one attempt to modify the origninal design without fundamental changes, a final re-design was in production by 1947, with a heavy, stiff metal tang, thicker sidewall castings, and reinforced screw holes.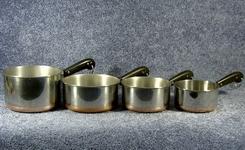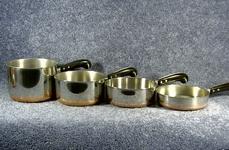 In the original 1939 issue, all Covered Sauce Pans were the same diameter (7.25″) – the volume contained (from 1 to 5 quarts) was determined by the height of the sidewall. This reduced the number of production dies needed, kept parts inventories down, and reduced customer cost (fewer pieces were needed for a set). Simplicity this logical couldn't last – by the late 1940's the 4 and 5QT pans were widened to 8.25″ and the 1 and 1.5QT pans were narrowed to 5.5″ and 5.75″. Later years saw taller versions of the 1, 1.5, 2, and 3Qt double-boiler pans added to the line.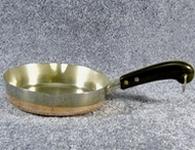 Lipped Skillets (with pouring spouts) and Deep Well Cookers (used in special stove-top "heat pits") were common in 1930's kitchens. However, post-war changes in cooking habits, stoves with smaller cook tops, and sealed ovens made them obsolete. Both items were discontinued by the early 1950's.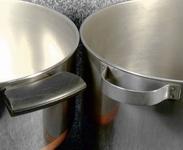 The original Sauce Pots had simple, flat stainless steel handles which allowed them to be used in the oven as well as on the stove-top. Bakelite (although somewhat heat-resistant) was reserved for stove-top utensils where temperatures were generally lower. Steel handles persisted for some time (Bail-Handle Kettles kept their single side-mounted steel handle until they were discontinued in 1968).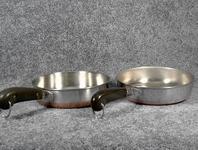 Changes were not always final: The squat 7.25″ diameter by 2″ high 1QT Sauce Pan that was dropped in postwar re-sizing (see above) was resurected as a "Combination" pan in the mid 1950's. With the introduction of frozen foods in 6″ x 6″ x 1″ blocks, the Combination pans became "frozen Food skillets", as they were perfectly sized to thaw a package of frozen food, then cook it without changing pans. Always a special order item (marked as 1Qt), it remained in production until the 1980's.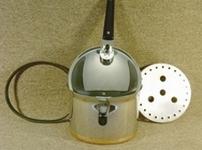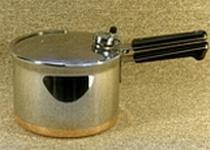 Revere brought out its first Pressure Cooker in 1946. Marketed as a time-saver (this was before the days of Microwave cooking); it was initially offered with a pressure gauge mounted on the steam valve (operation required the user to monitor the pressure – adjustments were made by changing the heat level). Problems quickly developed with the rubber mounted steam release valve and it was redesigned in 1948, to a weight-activated, semi-automatic system with fixed pressure settings – 5, 10, & 15 pounds. This simple and reliable set-up was highly successful, and "PC's" remained part of the copper clad 1400 line (with periodic updates) through the 1990's.
Marketing Revere Ware(1953-1965)
Although Revere's patent initially blocked duplication of their cladding process, Revere faced numerous challenges from competitors throughout the 1950's. New technologies brought a variety of new materials (multi-layer sandwiches of stainless steel, aluminum, copper, and carbon steel) as well as increased pressure from existing manufacturers of aluminum and stainless steel cookware. New sales concepts (marketing and consumer profiling) opened up new markets to which Revere introduced new lines of cookware, all offered under the "Revere Ware" banner.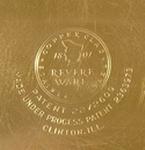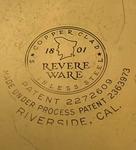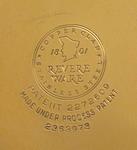 An aggressive advertising campaign was begun in 1948 to re-enforce Revere's brand loyalty, and the Revere Ware trademark was an important parts of this effort. The special cladding process was advertised on each piece by inluding the text "made under process patent" in the hallmark. Revere expanded it's production capacity, opening first the Riverside, CA plant in 1949, then the Clinton, IL plant in 1950. These plants identified their production in the hallmark; the Rome NY plant delayed identifying itself until 1974 – its earlier production was identifiable by the lack of city/state designation.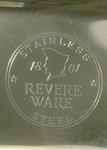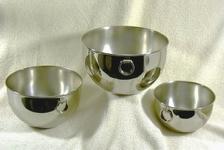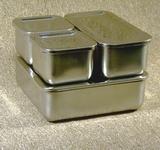 The changes in industrial production required by the Korean War diverted raw material supplies, particularly copper and for it's duration, Revere restricted it's new products to a line of smaller, all-stainless accessories, bringing out various Wall Racks, Egg Poacher and Double-Boiler Inserts, and Canisters, .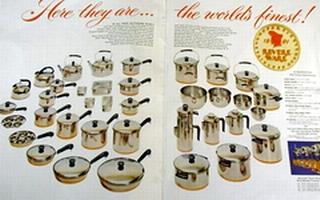 By the end of the Korean War, Revere Ware had become the "Gold Standard" of American cookware with 39 items in 12 distinct utensil types. Sales of copper clad Revere Ware reached an all-time high in 1953, with nearly 5.5 million pieces shipped that year.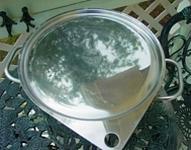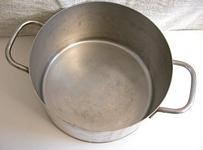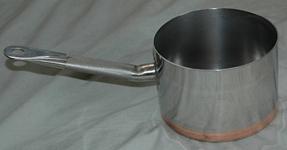 The Institutional (5000 line) was introduced in 1954 (although it was originally designed in 1939). Positioned for use in hospitals, restaurants, schools, and military bases it was copper clad and featured heavyweight, all stainless steel construction. Available in a wide range of sizes, the skillet and sauce pan handles were long tubes of stainless steel with knurled grip areas and hanging holes, while stock pots used simple, oversized, solid stainless loops. The lids were flat, and recessed to permit efficient stacking (even while hot) with "wing tip" extensions serving as handles. Institutional cookware was made with heavier gauge bodies than regular Revere Ware and did not require rolled rims to stiffen the sidewalls, making them simpler to clean. Although this line was well received, sales never got off the ground (only 113,000 units were made) and it was discontinued in 1958. Parts of this line : 14 cup perculator, Mixing bowls in 1,2,4 & 6qt sizes and a 4-piece set of Handy Pans (refrigerator storage containers) were retained and added to the 1400 line.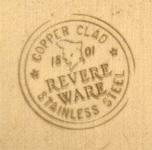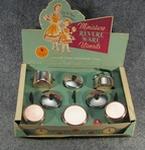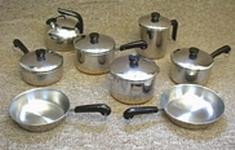 The Miniature Revere Ware (500 line) came out in 1955 and was a direct extension of Revere's advertising to foster brand loyalty. These perfectly scaled down replicas were marketed in sets to the "little homemaker", and parallelled the full-sized "Kitchen Jewel" sets sold to their mothers. Copper-clad with Bakelite handles, they even carried the Revere Ware hallmark. They were very popular, rapidly becomming a collecor's item, and continued in production until 1983, by which time almost 3,000,000 pieces had been produced.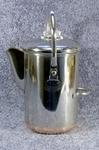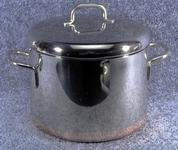 One of the biggest food fads of the 1950's was the backyard barbecue, which was the focus of the Patio Ware (1800 line) (brought out in 1956). Esentially a spin-off of the Institutional Line, Revere simply replaced the flat Institutional lids with polished, domed versions, and updated the packging. Since men were expected to be the principal users at barbecues, Revere advertized that the large handles were designed for a man's "larger hands". The line included only 6 pieces – 4 skillets and 2 stock pots no sauce pans were offered). Although seamingly a well timed and appropriate product, it suffered the same fate as the Institutional line, and production ceased in 1958.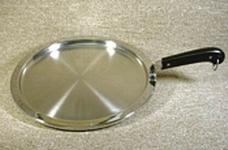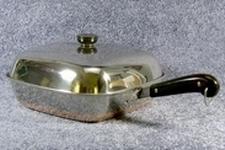 1956 also saw two additions to the basic 1400 series Revere Ware line: the 10.5″ and 12.5″ (measured diagonally) Square Skillets and the 12″ Round Griddle. They were special order items produced exclusively at the Rome plant- the square skillets were discontinued in 1962; the griddle was produced until 1968.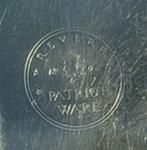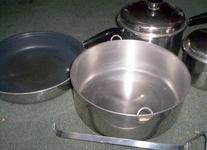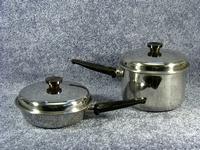 In 1957, Revere introduced the Patriot Ware (4000 line). This was the first Revere Ware line which was not copper clad, using instead a "heat lined" laminated steel sandwich of stainless steel around a carbon steel core (this new tri-ply material was produced by Allegheny Ludium Steel in 1953, under license from Clad Metals who had perfected the technology). All pieces of Patriot Ware had "vapor-seal" steam retaining rims, (the health benefits of "water free" cooking were a popular selling point). In 1960 a "Campers Set" consisting of a 4 qt sauce pot,1 & 2 qt Sauce Pans, and a 10″ skillet with unique, detachable handles (all four pieces could be "nested" compactly) was offered through the LL Bean catalogue. Later the same set was produced for PALCO who apparently introduced them to the Boy Scouts of America. Patriot Ware was used for concept testing and was briefly available with a non-stick Teflon® in the 1960's It was eventually replaced by Tri-Ply Revere Ware in 1967, and production ceasing in 1970 after over 2,000,000 units had been sold.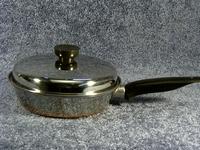 "Premiums" (Inexpensive versions of existing products) which customers could obtain by buying another product) were popular sales promotion tools of the 50's & 60's. Revere produced the Copper Maid (100 line) from 1957 to 1965 (total production amounted to less than 1,000,000 pieces). Sold door-to-door, at home based "parties" and by mail order; it was light-weight copper clad stainless steel, with vapor-seal rims, and a restyled bakelite handle.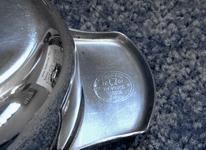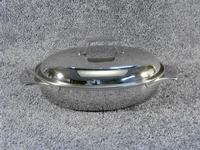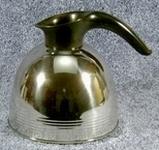 Hosting informal dinners with friends and co-workers was an important part of the suburban lifestyle in the 50's. Accordingly, Revere designed the Buffet Ware Line to fit this niche. It was stylish and inexpensive, "Perfect to bake in, ideal for serving, storing and freezing all in one dish." Buffet Ware It featured a warming stand (using candles), covered casseroles, and a beverage server.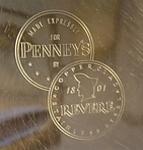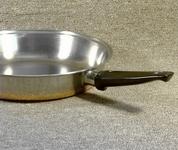 The late 1950's saw the advent of a new shopping trend: the mail-order catalogue, dominated by Sears & Roebuck, JC Penney's and Montgomery Ward. Beginning in 1957, Revere manufactured product for Penney's, which was identical in styling to the Patriot Ware line with vapor-seal rims on all pieces, copper-clad, and carried a unique dual hallmark – "Made Expressly for Penney's by Revere".
By the late 1950's, Sales of the traditional copper clad Revere Ware began levelling off and a new "flagship" design was sought which would combine style, innovation, high quality, and be simple to care for. Designers' Group (the 6000 line) introduced in 1959, was a complete redesign of the classic Revere Ware.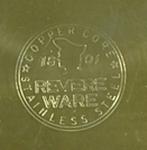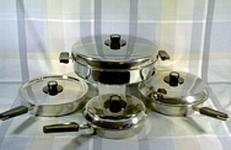 Intended to restore Revere's leading position in the domestic cookware market, it featured a new cooking surface composed of a copper core between two layers of stainless steel, and re-styled bodies and lids with a clean, modern appearance, new phenolic handles with rectangular pull-out rings and lid knobs with safety finger guards. The copper core material was made in-house at the Rome plant using a Braze-bonding process which created the three layer sandwitch in using techniques developed elseware. Revere revamped the types of cookware included in the new line, dropping too-similar types, while introducing a covered brazier, long handled double boiler, chicken fryer with self-sealing lid, an electric coffee percolator, even a teapot with matching sugar bowl and creamer! The introduction was backed by a huge advertising campaign combined with heavy dealer promotion. Despite successful early years, subsequent years saw rapidly decreasing sales as non-stick cooking surface (introduced in 1961). This "easy-care" surfaces were quickly adopted by makers of low-cost aluminum cookware, who combined it with bright, multi-color exterior finishes, generating most ofthe consumer interest and attention for the next 10 years. During this same period, Revere failed to maintain its market position. Under increasing financial pressure, Designers' Group, arguably the best cookware line ever produced by Revere, and "America's most modern cookware" was discontinued in 1973. 2,140,000 units were sold over 14 years.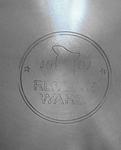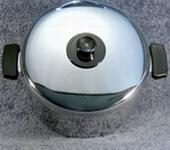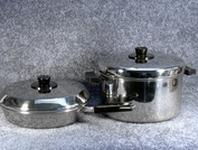 Designer's Group (6500 line) – note the change in the position of the apostrophe, was produced from 1969 to 1975. This line replaced the copper core of the original with one of carbon steel, and used handles and knobs from Neptune with the sea-horse inserts removed! The purpose of this abortive line is unknown, and barely 71,00 pieces were sold (less than 4 % of the original copper core version).
Non-Stick Surfaces(1961-1966)
In 1961, DuPont introduced Teflon®, the first of the non-stick fluoropolymer coatings – essentially for aluminum cookware applications. The appeal of lightweight, inexpensive, space age cookware that would never require scrubbing was obvious – making a non-stick surface a key feature for many buyers. This put Revere at a competitive disadvantage because (at that time) no process existed to bond (with acceptable durability) a Teflon® coating to stainless steel.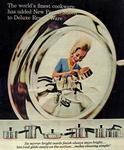 Revere's response was to try to improve the non-stick properties of Stainless Steel itself, rather than apply a teflon coating. They changed to a harder SS alloy and polished the inside surfaces to a mirror finish. This improved surface was dubbed "Perma-Sheen",and was introduced on Deluxe Revere Ware in 1962. Advertized as a permanently non-stick stainless steel surface since there was no coating to wear off; it was more accurately stick resistant, and (unlike the hard anodized low stick surfaces of later years) did not accomodate the use of metal utensils. It was never applied to any other Revere Ware product, and was discontinued by 1965.
1965 saw Revere improve the durability of Revere's non-stick surface, especially when applied to stainless steel. The "Perma-Loc" surface required a two-step process – first a metal/ceramic substrate was applied, followed by the teflon coating. Various coatings were used (Teflon®, Teflon II®, Ironstone®) but all carried the "Perma-Loc" name (Revere advertised this coating as "Locked-On" or "twice applied Teflon®". Perma-Loc was offered on Deluxe Revere Ware, Neptune, Copper Clad Revere Ware, and all the aluminum lines.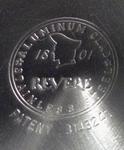 In 1966 Revere tried another approach: applying the non-stick coating to the porous interior aluminum surface of their bimetal stainless steel clad aluminum Galaxy (8700) line, introduced in 1964. Exclusive to Galaxy, this combination was discontinued in 1977 after a production run of only 500,000 pieces.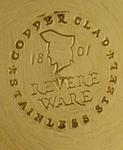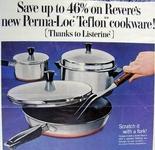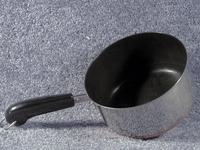 Revere adopted the Boeclad process in 1967 (patented by Boeing Corp.) using a spray of molten stainless steel droplets to roughen the stainless surface so that all manner of non-stick coatings would adhere. This process was used with considerable success on copper clad Revere Ware with Perma-Loc (3400 line) but sales were dissapointing and it was largely discontinued in the late 1970's.
Aluminum (1960-1980)
Starting in 1961, a series of new aluminum / stainless steel laminate materials were developed by Clad Metals, Inc. ALCOA, West Bend Co., Regal Ware Inc., and Aluminum Specialty Co., all took these materials and introduced new products with them. In the late 1950's, Revere had committed iself to supplying its raw material needs internally, through its' Ormet subsidiary togrther with the Scottsboro AL reduction plant. When the Riverside CA plant closed in 1962, Revere transferred much of the equipment to it's Alussco plant in Oneonta AL (opened in 1963) intending to use it to make utensils from it's newly patented aluminum/stainless steel material which it was to manufacture on site, using a roll bonding process. When the sales of bimetal products were slow to develop, Oneonta installed Teflon equipment and produced aluminum, bimetal, and copper clad stainless utensils with Teflon, Teflon II, Perma-Loc and Silverstone linings. Four aluminum based product lines (Revere Teflon (1963) Galaxy (1966), Color Clad (1967), and Daisey (1969). were produced in the US during the period that Oneonta plant was active (1963-1985), although several imported lines were also sold. There appears to have been little advertising support given to them – the only literature I have ever seen are "in-box" sales handouts. Examples also exist showing that Revere was testing product that was virtually identical to Wear-Ever's Inner-Clad in both styling and construction, but no details of this matter have been found. All aluminum cookware lines were produced at the Oneonta, AL plant until 1985, when Revere abandoned it's aluminum operations (Oneonta was closed in 1986).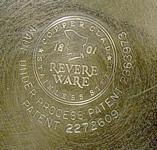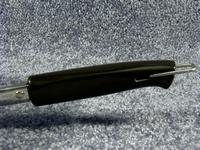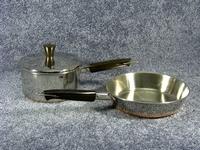 Deluxe Revere Ware (9000 line) was brought out in 1962 using the traditional copper clad SS construction and profiles, while adding a sleek new handle design with slide-out hanging loops and low slung "pagoda" styled lids with inverted conical knobs. Responding to consumer demand for a non-stick cooking surface, Deluxe Revere Ware was initially produced with a highly polished "Perma-Sheen" interior surface but Revere subsequently discontinued all use of "Perma-Sheen", offering the "Perma-Loc" Teflon® surface in its place.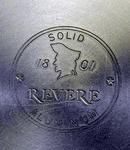 Revere Teflon (8300 line) introduced in 1963, was the first aluminum cookware line to carry the Revere name. Known internally as the 8200 line, it had plain aluminum bodies, polished lids, and the original delicate Teflon® lining that required the use of plastic or wooden Utensils.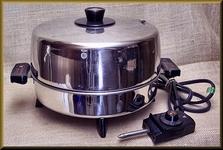 In 1963, Revere began producing electrically heated cookware. Initially restricted to coffee percolators, skillets, and serving trays; it was later expanded to include waffle irons, griddles, slow cookers, microwave ovens, pressure cookers, and even ceiling fans. Parts of this line are still in production (as of 2005).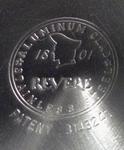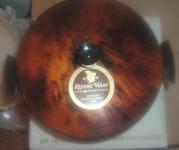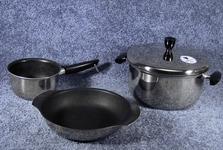 The most significant design of Revere's aluminum cookware came with the introduction of Galaxy (8500 line) in 1964. It used a patented construction of stainless steel lined with aluminum, produced in-house at the Oneonta AL factory using a roll bonding procedure. In 1965 it was offerred with a Perma-Loc non-stick interior (8700 line), and in 1967 an "Autumn Leaves" (7800 line) version, with multi colored lids. Similar in appearance to WearEver's existing Inner-Clad® line which used Stainless as the interior surface and did not offer a non-stick coating.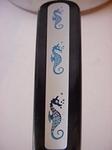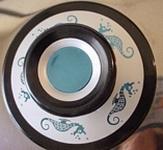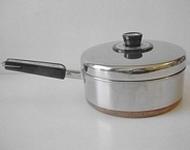 The Neptune line was brought out in 1967 and continued in production into the early 1970's,taking the styling from the now discontinued Designers' Group, and adding "seahorse" graphics (applied to anodized aluminum inserts glued to the handles and knobs). Both stainless steel and Perma-Loc non-stick cooking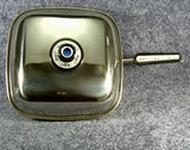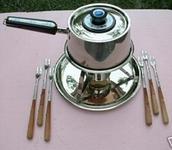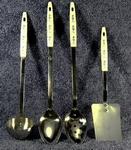 surfaces were offered – Initially, the Perma-Loc was blue in color (matching the graphics); later replaced by the standard black. Revere also introduced several new pieces of cookware including an asparagus pot, fondue set (which was later absorbed into the Paul Revere Ware line) and utensil set.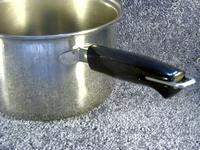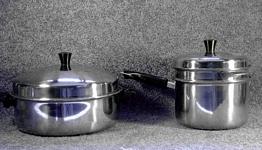 Simultaneously, Revere introduced Stainless Tri-Ply Revere Ware which updated the Patriot Ware line, keeping the Stainless steel/carbon steel core material and the Vapor Seal lids, while using the handles from Deluxe Revere Ware; the lid knobs were unique, but were squat and unremarkable. Tri-Ply Revere Ware was short-lived, and was replaced by the 1400 line look-alike Stainless Revere Ware in 1974.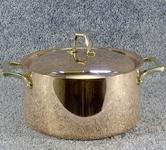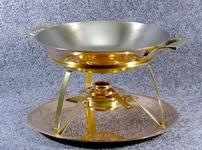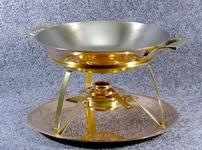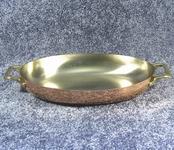 Recognizing that a high-end consumer market existed for the solid copper cookware commonly in use by professional chefs, Revere introduced the Paul Revere Ware line in 1967. Produced only at the Oneonta, AL plant, the copper/stainless steel material it used was made in house using a high temperature, pressure-bonding process, not the traditional Revere electro-plating process. Designed as much (or more) for visual appeal as for function, the solid brass handles were attached with rivets welded to the bodies (producing a riveted handle with no exposed rivet heads on the cooking surface. The line included numerous specialty pieces: omelet, crepes suzette, fondue, and Au Gratin pans; casseroles, even a flambe set with alcohol burner and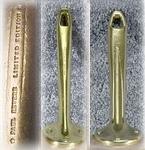 tray. Initial production carried "Limited Edition Collection" stamped on the undersides of the handles while a stylized Paul Revere "signature" was later added to the underside of each piece. This combination was designated the "Paul Revere Signature Collection" when the handle imprint was removed. A special issue commemorating the American Bicentennial added "1776-1976" to the hallmark. The "signature" was also used on teakettles, serving trays, and mixing bowls which were later additions to the line (these were simply units produced for the 1400 line with the signature added). By 1978, the line had grown to include 33 different pieces,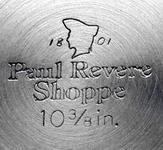 making it the largest line produced by Revere since the Revere Ware 1400 line of the mid 1950's. A design change came in 1982 when the handle was widened and an option for polished stainless steel, copper core bodies was added. A heavy duty commercial copper core version with stainless steel handles was added just before the line was discontinued in 1986, when the Oneonta plant was closed. The line was re-introduced in 2003 with a stainless steel encapsulated copper bottom and bodies of solid stainless steel; this final edition was manufactured in China and carried the "Paul Revere Shoppe" hallmark.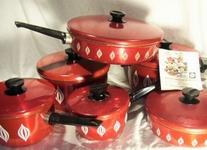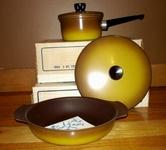 The cast aluminum Color Clad line came out in 1967, the first Revere product to offer a choice of exterior colors (Bacific Blue, Celery Green, Dancing Flame Red, Coppertone, Desert Sand brown, Poppy Red, Tudor Orange). It used the same body shapes and many of the same parts as did the oldRevere Teflon.but used the black Perma-Loc non-stick interior finish in place of the earlier Teflon® finish.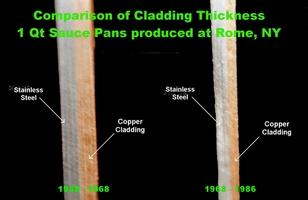 Throughout the late 1960's and 1970's, Revere sought to reduce production costs – particularly as regards the traditional copper clad Revere Ware. By far the most significant change made was to reduce the thickness of the copper cladding by shortening the electro-plating cycle time. Eventually, the cladding thickness was cut by almost half. This cut plating costs dramatically and increased production, but also severely compromised the legendary cooking qualities.
Changes continued – One-piece handles replaced the two-piece handles by the mid 1960's; Drip Coffee Makers were discontinued in the late 1970's, followed by the 6 Qt Dutch Oven (with its Vapor Seal Rim and High Dome lid)in the mid 1980's, and the Coffee Percolators in 1990. Although customer loyalty lingered, the "Grandma's Revere Ware" quality was never restored, and copper clad Revere Ware (renamed Copper Clad Collection in 1974) was increasingly targeted at the discount market. It survives today as the Traditions line, having little in common with the original Revere Ware except its appearance.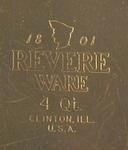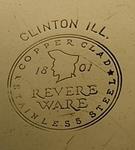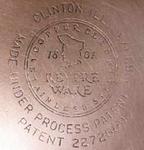 The hallmarks used from the late 1960's to the mid 1970's went through their own peculiar evolution. The plant name (typically Clinton, since Riverside was closed in 1962 and Rome mothballed from 1968-1974) previously below the circular logo, was moved above it, and the "Process Patent" wording dropped. The traditional circular Revere logo was replaced by the "1801 Profile" mark, and the utensil size added in 1975? with coding for the month and year of production added in 1979. When the Rome plant restarted copper clad production in 1974, it used the new hallmark and included the production plant.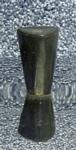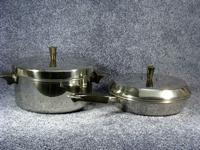 The Contempora (#7100) line (launched in 1971) combined several styling elements used in previous Revere lines: the laminated stainless steel / carbon steel core (now dubbed "heat spreading core") the pan handles from Deluxe Revere Ware, and the angular, modern profiles first seen in Designers' Group and Neptune lines; all of which matched the stoves and refrigerators of the period. Although this line survived for seven years, it was discontinued in 1978, in large part because the covers were extremely difficult to manufacture.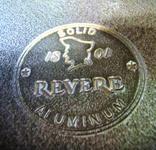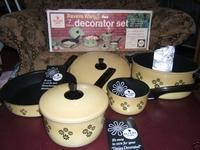 Revere introduced it's last domestically produced aluminum line in 1969 – Daisy Decorated. It had slid aluminum bodies with black, Teflon II® non-stick interiors. it featured all-new phenolic handles and knobs, and was available in Avocado and Harvest Gold color schemes (to coordinate with the latest appliance colors). It was made in Oneonta AL, and included an all-aluminum tea kettle produced at the Rome NY plant. It was designated the 8200 line, and continued in production until at least 1971.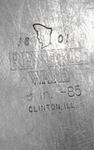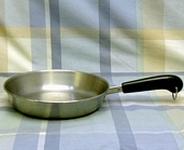 Stainless Revere Ware (#7000) (introduced in 1974) was styled identical to that of traditional Copper Clad Revere Ware, it used the stainless steel clad carbon steel core material first used in Patriot Ware and later in the Contempora and finally Tri-Ply Revere Ware lines. This provided satisfactory cooking performance, and retained the Revere Ware "look". Stainless Revere Ware became Revere's main line, and remained in production into the 1990's. Produced at the Clinton plant, the copper clad production it displaced was transferred to the Rome plant, allowing that plants' copper clad line (mothballed since 1968) to restart.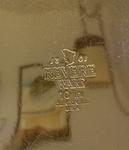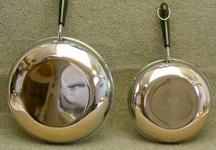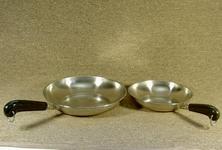 A specially designed Omelet Pan was added to the Copper Clad Collection in late 1974. Introduced as "America's only copper bottom stainless steel omelet pan", it was designed with shallow evenly rounded sides and was available in two sizes – 8″ & 10″.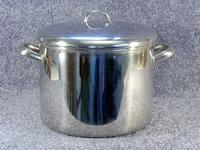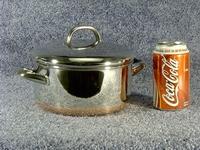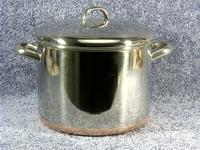 Restaurant Style Stockpots were introduced in 1985, replacing the 10,12,16, and 20 Qt wide Sauce Pots. Initially these were brought out in two body types, the first used the stainless steel/carbon steel core construction of Stainless Revere Ware, and the second was a commercial duty grade of copper clad. An aluminum disc bottom version was later added, along with a consumer grade copper-clad version (distinguished from the commercial grade by its recessed bottom). All four versions were all-metal pots, with tubular steel handles and metal lids.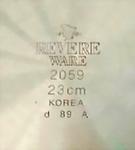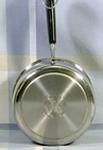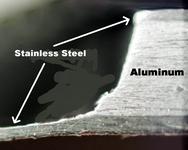 Kitchen technology changed in the mid 1980's with the introduction of the smooth glass/ceramic cooktop surfaces. These surfaces used embedded thermostats requiring cookware with thick, cast metal bottoms (as opposed to the pressed steel or electroplated bottoms used by Revere Ware). In March of 1986, Revere responded with the Aluminum Disc Bottom Cookware, sometimes called "tri-ply" or "slab bottom" (identified internally as the 2000 line). It continued the classic Revere Ware styling of the earlier 1400 and 7000 lines, but used a stainless steel coated aluminum disc brazed to the bottom of each piece allowing for use on smooth cooktops (and giving it the heat dispersion capability needed for use on conventional cooktops. Initially, the discs were brazed and buffed in Korea, and the final product assembled at Clinton. Later the entire production process was moved to Clinton. The line was an immediate success, amounting to 20% Revere's total cookware sales in 1986.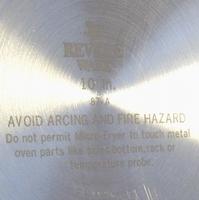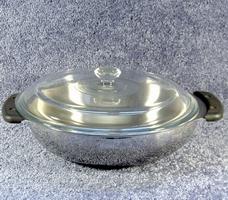 The Micro-Fryer was introduced in 1987 – designed to allow "combination cooking" – food could be browned on the range top, and then transferred to the microwave oven to complete cooking – all in the same pan. The pans were available in 8″ and 10″ sizes, with both copper clad and aluminum disc bottoms. A tempered glass cover (required instead of metal to prevent arcing) was provided with each piece. This line was an early casulty of the merger with Corning that was to come only a year after it's introduction – It was in direct competition with existing Corning's microwavable cookware; and internal politics forced Revere to cancell it in 1989.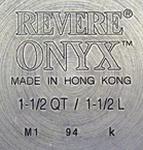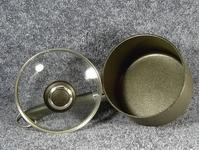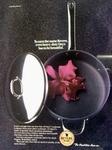 The ONYX line, also introduced in 1987, was Revere's first line to be produced entirely overseas. Originally introduced as an upscale line featuring a hard anodized aluminum cooking surface, commercial style tubular steel handles and solid, stainless steel lids, it was withdrawn in 1988 due to a perceived overcrowded market. It was reintroduced in 1994, but dismayed buyers found that clear glass lids and phenolic handles had been substituted and a non-stick surface had been added – the design had been modified to allow the use of cheaper, off-the-shelf parts.
The End of Revere Ware As We Knew It (1988 – present)
The tremendous financial losses incurred by its aluminum operations ultimately forced Revere Copper and Brass, Inc. to seek bankruptcy protection in 1982. Following reorganization in 1985, Revere Ware Incorporated (the cookware division) was sold to Corning Glass Inc.; while the Mill Products Division was bought by the employees (retaining the Revere Copper and Brass Inc. name). The remaining Aluminum assets were sold and Revere withdrew completely from primary aluminum production. In 1986 the Rome facility was closed; and in 1989, the spare parts program was discontinued. Revere turned away from inovation as a source of new products, and focussed instead on diversity. Prior to the Corning buyout, Revere was producing four lines of cookware, each with unique features, targeted at different market segments: Copper clad 1400 line, Aluminum disc (2000 line), Hard Anodized Onyx™, and the and the Micro-Fryer™, each of which also retained some domestic manufacturing capacity. Ten years later, World Kitchen Inc. assumed control in 1998 with over a dozen lines, many of which differed mainly in the styling of the handles, colors, or type of lid. Domestic manufacturing was nonexistant, all production having been outsourced to far-eastern plants. Those trends continued under WKI (at least 12 "new" lines were added in the 7 years from 1998 through 2005). The lack of a cohesive marketing strategy, with poorly differentiated (and frequently changing) product lines, served only to confuse, then allienate buyers.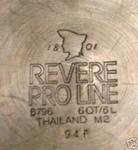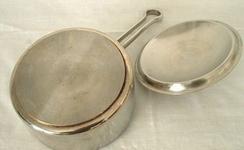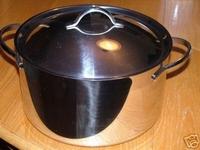 1989 – The first completely new Revere/Corning product was brought out – ProLine – made of a very heavy gauge of 18/10 stainless steel with a copper disc bottom faced with stainless steel to provide even heating and unusual "wire" handles which were designed by Richard Gregor of Corning. It was first made at Clinton, but by 1994 production was shifted to Thailand. By 1999, Revere moved production to Korea, and changed from the original stainless steel/copper disc to hard anodized aluminum clad stainless steel, with glass lids replacing the original stainless. Arbitrary design changes made to existing lines became typical of Revere managment decisions through the 1990's, s teadilly damaging customer brand recognition of Revere products.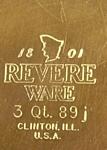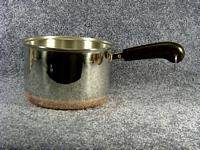 1989 – The Vista line was introduced which took the 1400 line copper clad bodies and (with minor modifications, fitted them fitted them with glass covers were taken from the Corning Ware line. The line was targeted towards the Mass channel of distribution where the re combining of existing parts to make a "new" line became Revere's main source of product concepts.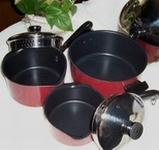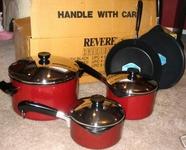 1992 – Spectrum introduced aluminum non-stick bodies which incorporated dual pouring spouts, together with "old fashioned" Revere Ware stainless steel strainer lids. The enamelled exterior was available in maroon, blue, and black; the one-piece handles were riveted to the aluminum bodies. The finished product was imported from Thailand.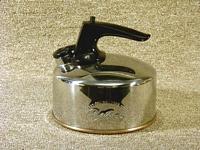 1992 – Revere issued the "1892 – 1992 Paul Revere Centennial" teakettles, but what they "commemorated" is somewhat puzzling – Revere was producing cookware before 1892; and the Rome facility that started production in 1892 was Rome Manufacturing, not Revere; and did not become part of Revere Copper & Brass, Inc. until the merger of 1927. There was irony as well – Revere had closed the Rome facility (Revere's tea-kettle plant) six years earlier, and moved all tea-kettle production offshore – every "Paul Revere Centennial" teakettle had to be imported from Korea.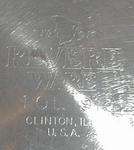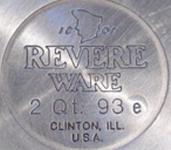 1992-3 – Hallmarks on aluminum disc bottom line were relocated to a circular recess on the bottom of the utensil. Production of Stainless Revere Ware was discontinued, and the Clinton plant workforce suffered further reductions.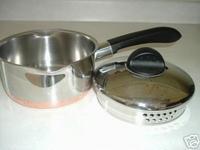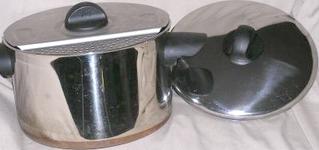 1993 – Excel – Emphasizing ease of use, it incorporated stainless steel bodies with double pouring spouts, non-stick interiors, and a specially designed "strainer" lid on the Sauce Pan to allow draining pasta without the use of a colander.
1997 – Centura – Distributed exclusively through Wal-Mart, It was based on the 1400 series copper clad Stainless steel bodies but had redesigned phenolic handles, and lid knobs that could be rotated to vary the amount of steam released. Also available as Centura Clear with the aluminum disc bottom, and glass lids.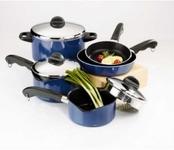 1998 – Independence – Porcelain enamel exteriors with nonstick interiors, double pour-spouts, stainless steel strainer type covers. This line was essentially Spectrum with new handle styles.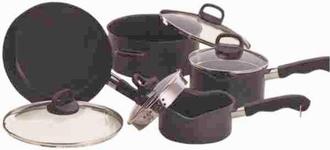 1998 – Revolution – DuPont SilverStone Select® nonstick coating, inside and out, re-styled Revere Grip handle, large loop knobs, saucepans with double pouring spouts, and strainer covers.
1998 – Revere Ware, Inc. was sold to Borden Inc., along with the rest of the Corning Consumer Products Division (Corelle, Corningware, Visions, Pyrex), all of which were reorganized as World Kitchen, Inc.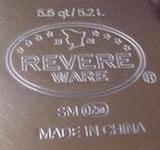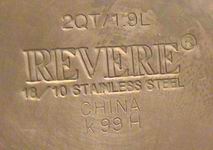 In 1999, the Clinton, IL plant closed. All domestic manufacturing of Revere Ware ended, and corporate headquarters for the former Revere Ware Inc. line were moved to Indonesia. The Revere Ware logo was initially dropped and replaced with the single word "Revere" (it was revived in a subsequent oval logo. New Product lines kept comming, many of which were essentially renamings of older or existing lines. In some cases (the popular ProLine for example) the name remained, but the product was changed in both style and consatruction.
May 2002 – World Kitchens Inc. filed for Chapter 11 bankruptcy protection but introduced new lines even while reorganizing in 2003.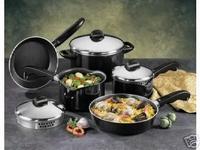 2002 – Chef's Preference – Aluminum bodied, nonstick cookware with black enamel exterior finish. Features saucepans with pouring spouts, stainless steel colander (strainer) covers and restyled versions of the traditional "pistol grip" handles. Sold as an 8-piece set.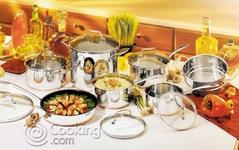 2002 – Culinary Classic – Extra heavy, 18/10 stainless steel bodies with impact bonded, copper encapsulated bottoms, solid stainless steel handles and tempered glass covers – skillets had a non-stick interior finish. The line was targeted to the upscale market (sold in 13 piece sets, priced at $199.00).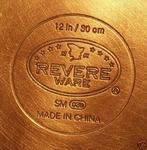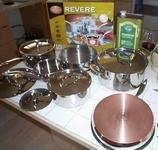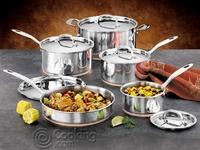 2003 – Chef's Request – Heavy duty, all 18/10 stainless steel bodies with copper bottoms. Slim, cast stainless handles and stainless steel covers. This line was not available with non-stick cooking surfaces. Made in Indonesia, it was available in 11 piece sets and open stock.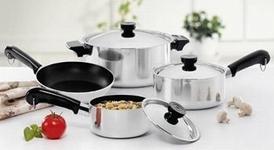 ???? – Polished Nonstick – Aluminum with a polished exterior to coordinate with stainless steel Revere lines, nonstick interior.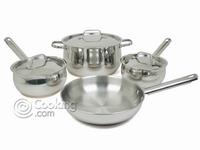 2004 – Copper Ellipse – Pans feature an attractive bowl-shaped body made of 18/10 stainless steel with copper encapsulated bottoms, riveted, tubular stainless steel handles, and solid stainless steel lids. Made in South Korea, available 7 piece sets only.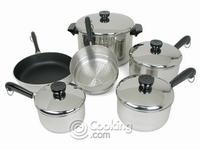 2003 – Tri-Ply Stainless – A renamed version of the highly successful Stainless Revere Ware originally introduced in 1974. Classic 1400 line styling, body material comprised of two layers of stainless steel around a core of carbon steel for heat dispersion. Phenolic handles and knobs on stainless covers, virtually unchanged from 1974. Made in Indonesia, available in 10-piece sets.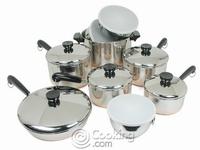 2003 – Copper Clad – The latest version of the 1400 line copper clad Revere Ware which was first introduced in 1939 and was the foundation of the company. The copper clad stainless steel body, with phenolic handle and knob stylings (my emphasis) are virtually unchanged in almost 60 years. Made in Indonesia, it is available in 14 piece sets and individual pieces.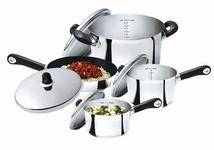 2003 – Traditions – Stainless steel bodies with non-stick coating, capacity markings on interior surfaces, modern looped handles with hanging holes.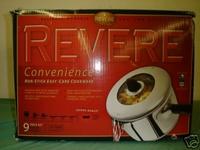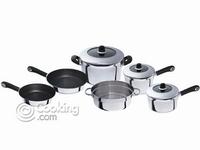 2003 – Convenience – Stainless steel (18/10) bodies with encapsulated aluminum disc bottoms, Metal resistant DuPont Teflon™ nonstick coating on all interiors, soft grip handles, vented glass lids with wide stainless steel rims, and "no-spill" pouring spouts. Made in Indonesia, available in 8 piece sets.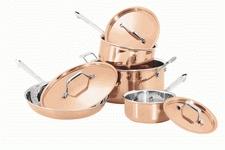 2004 – Copper Select – Essentially a reintroduction of the Paul Revere Ware series, (discontinued in 1986) it used the same solid copper stainless steel lined bodies and stying as the earlier series, but with stainless steel handles replacing the earlier brass ones. It was also available in a stainless steel body version, with a disc of copper faced with SS on the bottom; marketed under the "Paul Revere Shoppe" label. This SS version should not be confused with the heavy duty, professional grade of Paul Revere Ware which was produced by Revere's Oneonta AL plant in the mid 1980's – that line was completely SS with a copper core (bottom & sidewalls).
December 2004 – At least one internet distributor reported that in December 2004, WKI issued a request for all internet marketers to suspend the promotion and sale of Revere lines. The future of the Revere Ware line appears uncertain.
Summer, 2006 – World Kitchen revised it's internet Web page for the Revere Ware line, promoting the Copper Clad, 2000 (Aluminum Disc Bottom), Convenience, and Polished Non-Stick Lines. Spare Parts remain unavailable.
Readers: The company records and historical archives that would normally have been the source for production and design details were moved to the Clinton Plant after the Rome facility closed in 1986. By all accounts, they were either lost, destroyed, or dispersed in 1999 when Clinton was closed, and are no longer available. The information presented here was compiled from many anecdotal sources, including advertisements, catalogues, examination (and sometimes destruction) of some 500+ pieces of Revere Ware, as well as interviews with retired Revere employees. Because of the lack of company records inconsistencies and uncertainties exist in the information presented here. Comments, criticisms, corrections, or assistance are all welcome! – Periodic updates will follow in the future – check back from time to time.
Special Note: Many people have contributed to this project, either with photographs, information, or encouragement. First among equals are Jay Merrill (who laid the initial groundwork and whose continued input has carried me over many a blind alley) and Skene Moody (a kindred spirit, whose "voice in the darkness" helps me retain my sanity)!