Given the iconic copper bottom Revere Ware lines longevity and prevalence among Revere branded cookware, that has been our main focus in terms of replacement parts and information.  I've heard of the ProLine line of cookware, but haven't known much about it.
Reader Jim brought some interesting Proline information to our attention.  He has been tracking ProLine auctions on eBay for some time.
Take for example this Proline roasting pan, that sold for$1,000.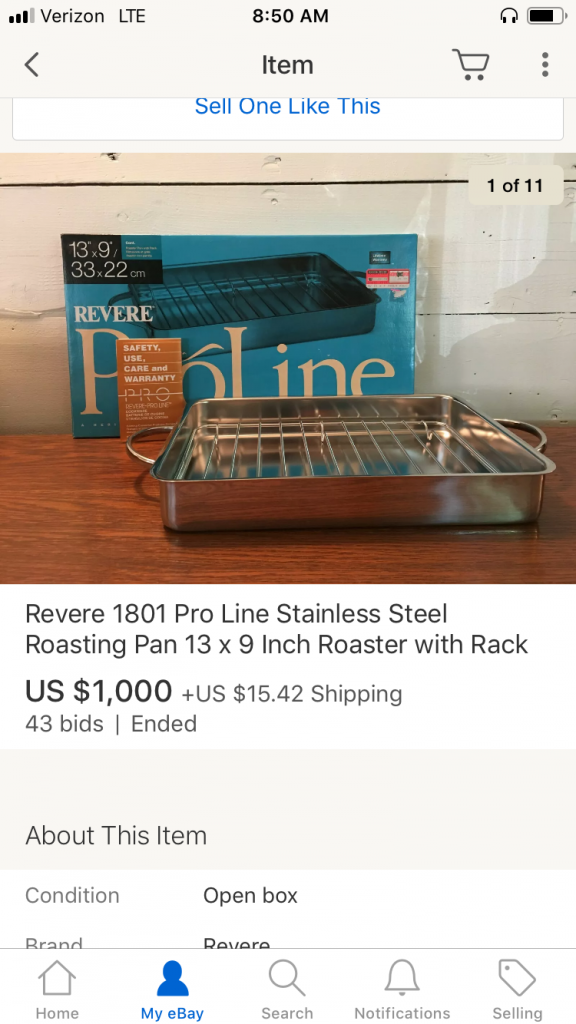 That's a pretty astounding price for a piece from a line I haven't paid much attention to.  I believe it is the highest price for ANY Revere piece I've ever seen.  Jim writes:
Well, it totally depends on the item – Proline came to my attention in 1999 – my Grandparents had always sworn by Revere Ware pans, and most of my Grandmothers siblings were Revere-ware owners from the 40s-50s onward. I was in college in 99, but set aside a whopping $240 to purchase the standard "10-piece set" from a Revere Outlet store in North Bend, Wa. That set followed me through college, and after, into my life today. About 4-5 years ago, my wife asked me if I wanted to replace it with an All-Clad set, and I started learning more about the available options on Revere Ware Proline in the secondary market, just to compare – I also discovered your site.
I decided to expand my current set, and for less than the price of the All-Clad set, I've acquired quite a pile of items. So, some items sell for a premium, and some don't, and it totally seems to depend on what was commonly sold new – Premium items: Round Griddle, 8 and 10qt Stock pots, Wok, and the 2qt sauce pan (with slanted sides) – and of course that roasting pan. I have an ebay saved search informing me of any Proline that comes up, and the items I just mentioned are semi-rare to very rare. Anything in the 10-piece set is typically NOT selling at a premium, particularly the 8″ skillet, 10″ saucepan, steamer basket, etc. You can locate 10-piece sets NIB easily enough, and for a price-point equivalent to the original price, or a bit over. On the other hand, if you had an 8 or 10qt stock pot, the griddle, the wok, etc. AND it was NIB, I believe you'd have something to sell at a premium.

HOWEVER…NOTHING, that would sell at close to that Roasting Pans Price – so far….;)
1989 – The first completely new Revere/Corning product was brought out – ProLine – made of a very heavy gauge of 18/10 stainless steel with a copper disc bottom faced with stainless steel to provide even heating and unusual "wire" handles which were designed by Richard Gregor of Corning. It was first made at Clinton, but by 1994 production was shifted to Thailand. By 1999, Revere moved production to Korea, and changed from the original stainless steel/copper disc to hard anodized aluminum clad stainless steel, with glass lids replacing the original stainless. Arbitrary design changes made to existing lines became typical of Revere management decisions through the 1990's, steadilly damaging customer brand recognition of Revere products.
After learning more about the ProLine line of Revere cookware, I'm with Jim; this sounds like surprisingly good cookware given the era that Revere Ware produced it and would probably hold up pretty well by today's standards.
Here is a
link
to search for "proline revere" on eBay.