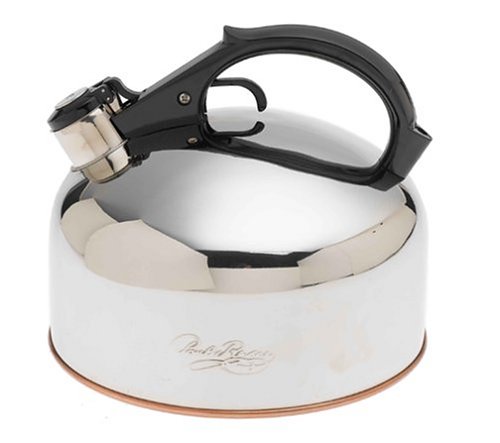 Customer Carol asks:
I have been using a Paul Revere tea kettle every day for over 25 years. Is it still safe to use or does the inside corrode?
The Revere Ware tea kettles are made from stainless steel and copper.
Stainless steel is stainless because the chromium that is added to the steel oxidizes to form a protective layer that prevents the iron in the steel from rusting.  This is a self repairing coating; if you scratch stainless steel, the new chromium that is exposed will quickly oxidize to repair the protective layer.
Note that the chromium used is not the same as the type popularized by the movie Erin Brockvich.  The type of chromium in stainless steel is the same as is typically include in a multi-vitamin and mineral supplement, which
supports healthy metabolism
.
The copper inside a copper bottom tea kettle will naturally oxidize from exposure to oxygen, which will turn the metal a turquoise blue.  Additionally, hard water deposits will build up on the bottom and sides of a kettle from normal use.  Both of these phenomena are totally safe.
Copper
is a naturally occurring metal and is an essential element for all living things, and hard water deposits are just minerals in drinking water, which also can be beneficial to the body.
To keep your kettle in good working order, it is important to clean the inside occasionally.
To clean a kettle, just fill it with vinegar (such as white vinegar) heat it, and pour it out.  You can do this repeatedly to get all the hard water out.  The vinegar will be very blue when it comes out, from the copper oxidation.  Some agitation with a bottle brush can help speed up the process.