Arbitrage is the exploitation of economic inbalances.  An example would be borrowing money from a low-interest rate country and investing it in a high interest rate one.
The appears to be some kind of economic arbitrage happening with our parts for sale on Amazon.com and those parts being listed on eBay.  Here is an ad for two of our lid knobs on eBay.
The ad is identical to our listing on Amazon.com, including the title, pictures, and down to the description.  We sell the pair of knobs on Amazon.com for $10.49; on eBay they are listed for $14.49.  Similarly to the fake web store we found a couple of months ago listing our products from Amazon.com, it seems likely that the back-end systems of this seller simply place orders on Amazon.com with free Prime shipping whenever an eBay order is placed, and make a few dollars on the difference between the prices.  This particular seller has 3 other products of ours from Amazon.com listed, all of which are our top sellers (so they are being smart about it).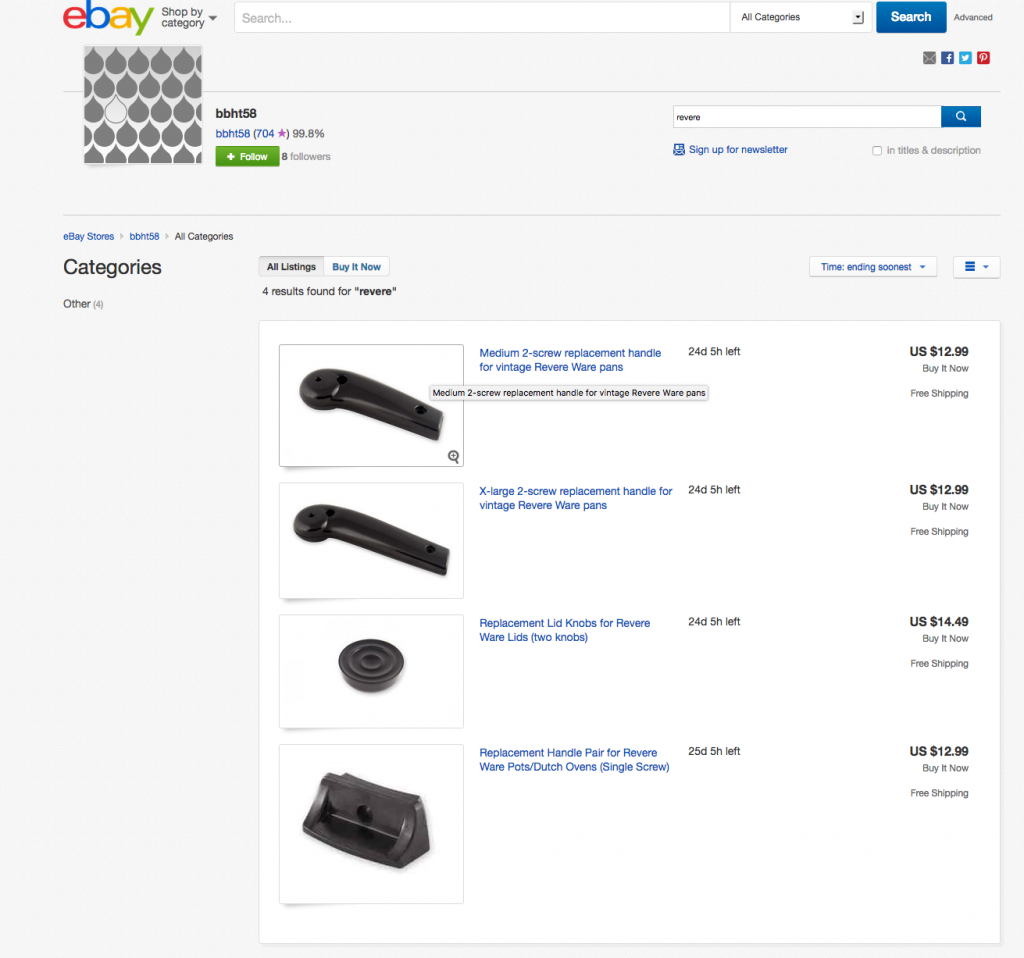 We can draw a couple of possible conclusions from this phenomenon.
Our prices are too low.  Given the proliferation of our products (and we are the only maker of Revere Ware replacement parts) on eBay at higher prices than we sell on our website or Amazon.com, perhaps the market can bear higher prices.
We should start selling on eBay; there is clearly a market for our parts there.
Doing a little searching on the subject reveals that Amazon-eBay arbitrage is actually a pretty common thing.  There is nothing wrong with it, per se; people are selling a listing something on eBay and then fulfilling the terms of the sale via Amazon.com.  The only problem we have with it is that the un-savvy shopper is paying more than they need to, and that any issues with the sale may track back to us via our Amazon.com sales channel.
We would actually love to use Fulfillment by Amazon as a way to fulfill eBay sales, and the difficulty of fulfilling them separately than how we handle our own website sales (via a fulfillment company), and Amazon.com sales (via fulfillment by Amazon) is what keeps us from listing our products on eBay.   As of yet, there doesn't appear to be a way to do this that is supported by Amazon.com.
The moral of this story is, if you want the best price on our parts, avoid eBay and go straight to Amazon.com or our website.