As probably anyone who has owned and been a fan of Revere Ware for many years knows, the good stuff just isn't made anymore.  So what do you do when you accidentally ruin your favorite pan, or you want to expand your collection?  You have two choices really:
Your local thrift store, which has the advantage of being cheap and quick, but is mostly hit and miss
Ebay, which has a longer lead time and might cost you more, but has a large selection and you can find almost anything you want.
My own tracking of Ebay over the last year has shown that, for reasons unexplained, the amount of Revere Ware sold there keeps growing, about doubling since a year ago, and now stands at about 800-900 listings at any given time.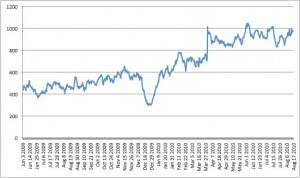 The problem is, finding what you are looking for on Ebay can be tedious.  To make it easier to find Revere Ware items on Ebay, I've created a site that constantly downloads and  categorizes the Revere Ware listings on Ebay.  You can find it here.  Listings are categorized into cookware type and sorted by size.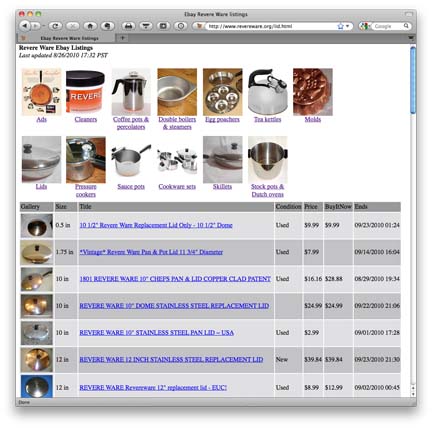 It is a little crude at the moment, but quite functional and is able to successfully categorize about 85% of the Revere Ware related listings into 13 categories.  The content is refreshed every 30 minutes.  You can expect frequent updates to improve both the appearance functionality in the coming weeks and months.  Enjoy!
Update:  World Kitchen has changed their site again and is now displaying the customer care and warranty links more prominently.