If you've read some of the information on our site and blog, you are surely aware that the quality of Revere Ware cookware made after 1968 is poor compared to the high quality cookware the company made between 1939 and 1968 (the vintage era).  Stuff made in the last 20 years seems to be even cheaper; I've personally heard many stories about newer cookware falling apart.
So it is easy to get excited about finding some truly mint condition Revere Ware cookware like this brand new vintage Revere drip coffee pot on Ebay.  The seller was nice enough to send us copies of the manual for this pot for our archives.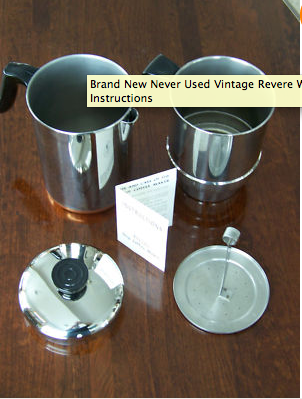 If you are a true Revere Ware fan, keep your eyes on the Ebay auctions as new/unused vintage Revere Ware cookware does appear from time to time.  If you are simply looking to replace an old vintage piece, there are plenty available on Ebay and the number of Ebay listings is growing every year.
The best place to find Revere Ware cookware on Ebay is our site revereware.org, which categorizes all Revere Ware listings on Ebay by type and size, so it is easier to find just what you are looking for.
Update: this piece ended up selling for just over $200.