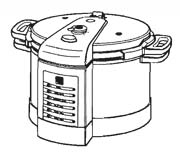 A customer asks:
I have a PC-806 pressure cooker, the pressure regular is missing (probably got lost during removal-and-cleaning, is there a replacement part I can buy
It is almost certain those pressure cookers were not actually made by Revere but were re-branded units made by another company, like Cuisinart.  You might try calling them.  You also might try looking/asking at Miss Vickie's, a forum and recipe website for pressure cookers.
Also, this supplier in Australia has the best selection of pressure cooker parts we've seen.