I've reported a number of times on the issues in recent years with the aggressive moves by states to grab income tax from out-of-state sellers (one, two, three, four, five, six, seven, eight, nine).  I'm surely not the only small business to get the jitters from all this; I recently came across a blog post on this topic from a small seller of retro electronic that I follow that highlights an additional issues along these lines; not only our states, but countries are creating more aggressive regulations, making it harder for small businesses to compete on an international scale.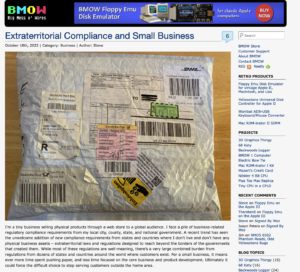 In summary / TL;DR:
GDPR is responsible for all the "cookie warnings" that almost every website has now.  Like shady attorneys pursuing website accessibility lawsuits in the US, there are a litany of such attorneys pursuing GDPR lawsuits against companies in the EU.  This has created extra hassles (and costs) for small businesses and extra hassles for end users.
LUCID requires companies to declare their annual weight of shipped packages and then purchase a packaging license from a third party; it appears to be mostly enforced by Germany, but applies to the entire EU.
VAT tax collection by EU and Canada (we haven't seen that yet) is causing shipment delays and extra hassle for customers.
The bottom line is that the regulatory burden that negatively affects small businesses is getting worse, not better.  I've always thought that people in the public sector making these laws are lacking in practical business experience, which leads to laws that hurt rather than help our nations small businesses.
I think our leaders need to remember that small businesses (fewer than 500 employees) employ over 60 million people in the US.  They would be wise to consider how new laws and regulations affect small businesses before implementing them.