Customer Joseph writes to us with the following question:
I bought a set of pre-1968 Revere Ware on E-Bay and one of the sauce pan lids is different from the rest. I've attached a link to pictures of two 7 inch lids.  You can see that the one on the right is shallower than the one on the left. All of the other lids have the same design as the one on the left and fit perfectly. The one on the right fits somewhat sloppy. Did Revere Ware change the lids and did we end up with a later model lid?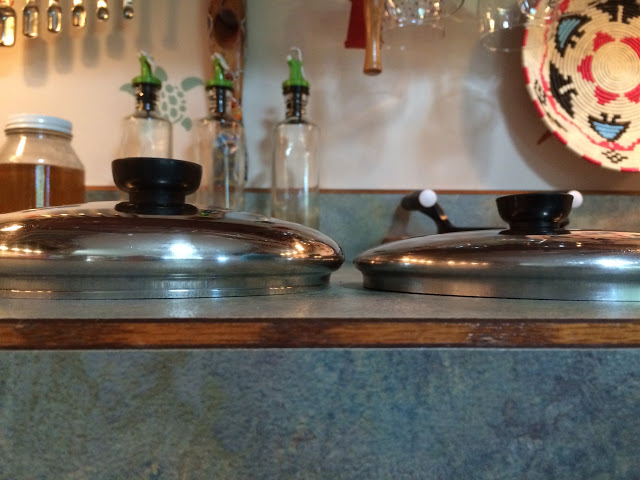 The historical information on lids is very fuzzy.  From looking through the Revere Ware photo guide I was able to identify that early Revere Ware lids were called vapor seal and had a tight fit to the cookware for "water-less cooking" which was popular at the time.  I believe both a high domed lid and a tight fit were essential for this type of cooking.
With the cheapening of the cookware in the lats 1960's, it makes perfect sense that they would move to a construction that was cheaper to manufacture and there are a couple of things about the construction of the shorter lid that seem to indicate this
– The lack of the little lip on the lid would one less step in the manufacturing process
– The shorter size would require less metal
So, my theory is that sometime in the late 1960's they switched to the cheaper construction. That is approximately when the construction of Revere Ware cookware changed to reducing the overall  amount of metal in the pans (about half the amount of copper and stainless steel) and moved from the two-screw style handle to the single screw style handle,  so a change in the lid also makes perfect sense.
If anyone has additional (or contradictory) information on the different lid styles, please respond to this post.