I must say, the customers that are brave enough to purchase parts from a small independent website like ours seem to be made of heartier stock than their brethren that quietly retreat to the safety of Amazon.com for such purchases.
We know for a fact that those of you that purchase from us directly seem to be better at reading, as you rarely ever return items just because you didn't fully read our product pages and ordered the wrong item.  On some products on Amazon.com, returns approach 15% of purchases; on our site we sit comfortably south of 1% of total orders being returned.  Even the characters that buy from us on eBay hardly ever return items, so this is definitely an Amazon phenomenon (phenomazon?).
But, there are some Amazon.com returns that are truly based on difficulty with our parts.  Granted, trying to replicate a line of replacement parts on a shoestring that was once developed by a huge corporation is bound to result in some imperfections.  But I give you our website customers credit, you seem to either figure it out or contact us for help (which we dutifully supply in droves) and rarely ever give up and just return the darn things, like your cohorts at Amazon are more likely than not to do if there is an issue.
So we've made some changes to try and engage with Amazon.com customers more; we now put stickers on every part with our Gmail address to make it easy for people to contact us for help, and we contact every customer who returns a product (that Amazon will allow us to in their infinite wisdom) to ask what went wrong.
And it turns out, we've been able to identify some small issues that are worth noting from al this.
Knobs that won't screw on easily
Sometimes, the lid knobs just don't seem to want to screw on.  I suspect it is corrosion on the lid screws that is the ultimate culprit here.  When you see a screw that looks like this, you know there will be trouble.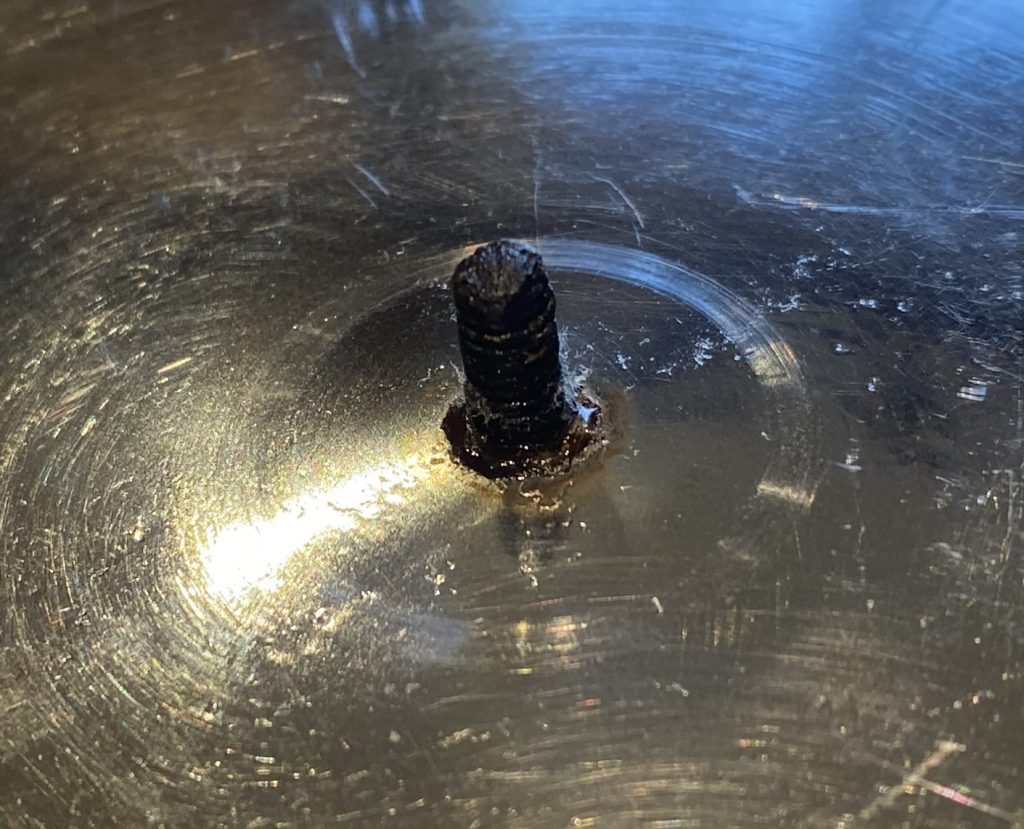 I suspect the tolerance on our embedded nuts is a little tighter in our latest production run vs prior runs.
Here are some things to try if you are having hard time
Use some WD-40 or household lubricating oil
Scrub a rusty screw with a green Scotch-Brite pad to try and remove as much of the rust as possible.  A wire brush might also be helpful
Push the knob onto the screw to try and engage the threads
You can always remove the screw, drill a hole, and use a separate screw from the hardware store, as we detail here, if your screw is too far gone.
If it still doesn't work, contact us for more help
POH-2 pot handle won't fit flat against the pot or the holes don't line up
This one is another head scratcher.  We've had a few customers where the handle fits on just fine, but the hole in the handle isn't line up with the hole in the bracket.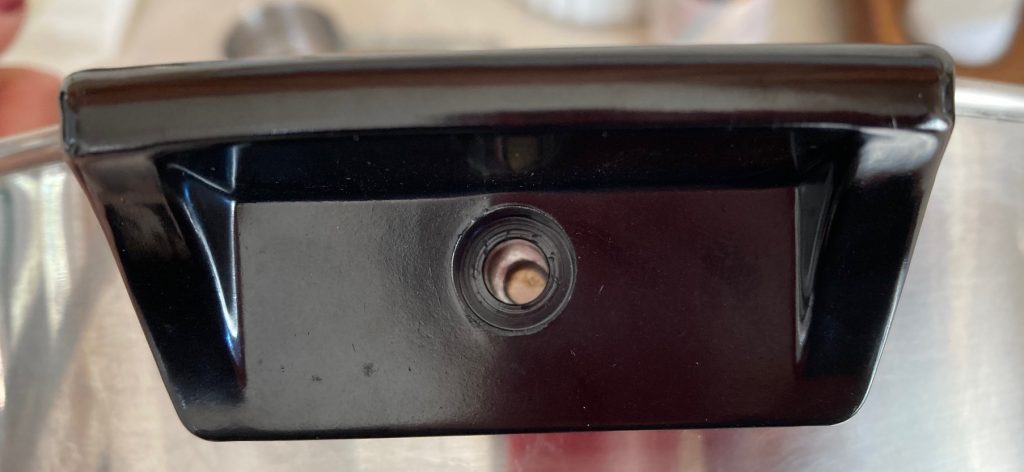 If this happens to you, you can sometimes get the screw to fit in just enough to screw down, and it holds fine.  Another solution is to nibble away at the inside hole of the Bakelite handle with a Dremel tool, or a round file, to provide extra room for the screw; usually you just need another 1/16th of an inch.
We've also had customers for whom the handle won't fit all the way over the bracket. Here is the bracket of one such customer (who also had the hole won't line up issue).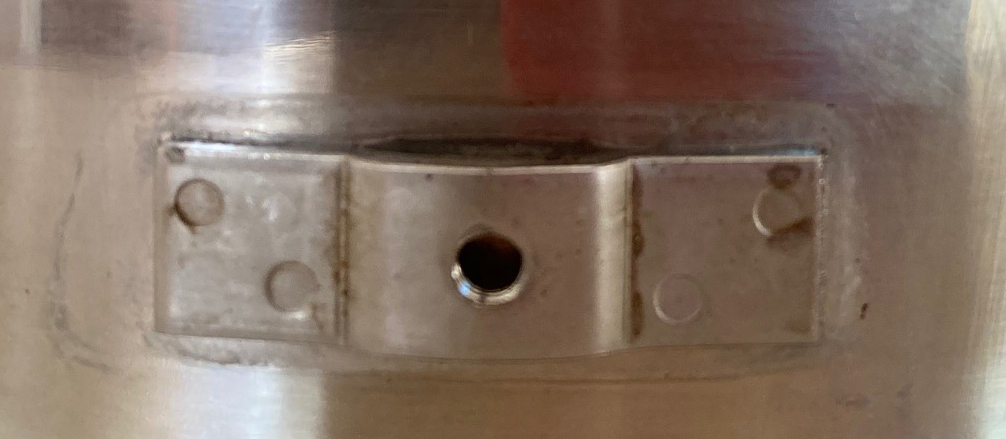 I measured several brackets from my test pots and they came out at 1.75″ x .5″ x 3/16″ (deep) the same exact measurements as the customers bracket.
In this case I sent her a replacement handle that worked, so it was probably just a little extra Bakelite on the inside of the handle where the bracket fits in that was preventing it from going all the way down. Please don't hesitate to contact us if you have this problem.  If you are a DIY type person and don't want to wait for another handle to try, use a Dremel tools to remove some of the Bakelite material from where the bracket fits to get it to seat all the way.