Our 1-screw handles fit the type of newer (post 1968) skillets and sauce pans that have a single rivet or screw through the metal part of the handle.  The connection of the handle to the pot is the same on all handles, so, in theory, you could use the smallest handle in the largest skillet or sauce pan, but it won't look right.
While we do include measurements of all of our parts in the part details, we recently came up with something simpler, this sizing sheet.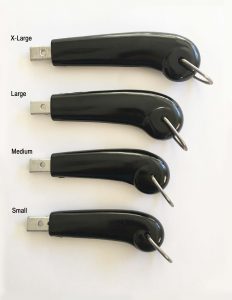 You can can download the PDF version of this sheet here.  If you download the PDF file and print it in portrait mode on an 8 1/2 x 11 (letter size) sheet of paper, you can just hold it up to your old handle to determine the proper size replacement.
If your existing handle has a rivet, you can find the guide to removing the old rivet here.