We've reported previously on the abandonment of the Revere Ware brand in 2018 by the new owners Corelle Inc.  Today we discovered it goes further than just discontinuing the production and sales of the product.
We received an email from Amazon.com that one of our listings was closed due to a suspected trademark violation.
We have removed ASINs that can be found in the Suspected Intellectual Property Violations tab of your Account Health, under the Reason "Potential Trademark Text Misuse".
That made me look to see what trademarks actually exist for Revere Ware, and I found this: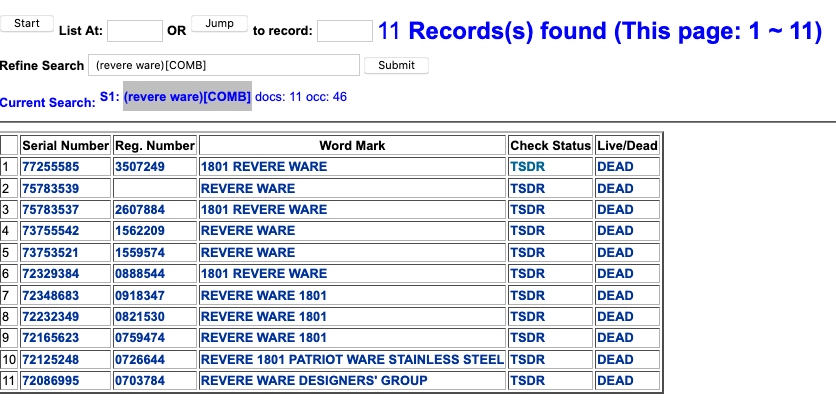 Wow, all trademarks are dead.  That is actually surprising, as it says that no-one actually sees any remaining value in the Revere Ware brand.
Many of them were cancelled in 2002, 2006, 2010, 2012, 2016, and the last one was dropped in 2019.  Seems like the brand has been dying for some time.
The issue with Amazon.com appears to be them thinking we don't have the right to sell under the brand RevereWareParts.com.
The brand RevereWareParts.com mentioned in the product detail page of the ASIN B001U2E1DY seems to be incorrect.
Hmm.  Well hopefully this page placed on our website is proof enough to them that we own the brand.
Update: Turns out what they objected to was this product listing title:
Revere Ware Pan/skillet 2-screw Handle Replacement Hardware Set (Med, Lg, X-lg Handles) (Two Sets)
They claim that Lg (which is shorthand for Large) infringes on the brand LG.  Just how to you respond to that kind of silliness?