Description
These are replacement lid knobs for Revere Ware lids.  Please use the information below and the pictures to make sure they will fit your pot/pan/skillet/dutch oven lid before you buy. These parts are newly manufactured by reverewareparts.com and are made to look and work just like original Revere Ware knob.
Material: Bakelite, brass
Includes: Bakelite knob with brass screw insert.  The screw insert is the female part inside the knob.  This knob does NOT come with a separate screw as all Revere Ware lids have a screw stud attached on them. If you want to use this knob with another type of lid that does not have a built in screw stud, you will need to purchase an 8-32 (stainless or brass) screw separately and cut it to the proper size.
Measurements: 1.7 in (43 mm) diameter, 0.75 in (19 mm) tall
Fits: All Revere Ware lids, vintage era and newer that have a similar looking knob.  This knob may not fit Revere Ware lid styles that have a different looking knob.
Replaces:  The part was called "Bakelite Cover Knob" and the original Revere number for this part was 2677.  It was also referred to as part no. 625.
Bakelite notes
Because Bakelite is somewhat brittle, over tightening a knob can cause the Bakelite to crack.
It is generally not a good idea to put Bakelite parts in the oven; it can make them dull or in some cases crack.  We do not offer our Bakelite parts as oven-safe.
It is generally not a good idea to put Bakelite parts in the dishwasher; the soap will eventually dull and dry out the surface of the Bakelite.  We do not offer our Bakelite parts as dishwasher-safe.
Installation & Troubleshooting
The most common problem with lid knobs is when the insert from the old knob is stick to the screw.  This is what you'll see instead of a screw: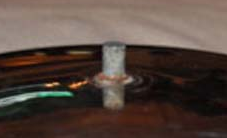 See our blog post for a full description of this problem.  This happens because the screw can sometimes corrode to the screw insert, making it extremely difficult to get off. The only way we've found to get them off in this case is to grab them with a large pair of pliers and twist. In about one of four cases, the lid screw will break off. Replacement lids can be commonly found at thrift stores (more common than the Revere Ware pots and pans).
If the screw part does come off of the lid, one solution is to drill a hole through the center of the lid and use a screw to attach the knob.  You will need a screw that is 8-32 thread size and the threaded part between 0.25-0.4 in long (6.5-10mm).  Use a stainless steel or brass screw with a rounded (not beveled head).  Here are visual instructions for this process.
Our threads may be tighter on your lid screw than your old knob, due to the fact that they are new, and that corrosion may have occurred on your lid screw.  To minimize the risk of tight threads causing your lid screw to pull of, do your best to remove any corrosion before applying the knob.  If the knob feels tight when screwing it on, use a back an forth motion to advance the knob on the threads and to minimize the stress on the spot weld holding the screw to the lid.
In a small number of cases, the screw on the lid will be too short for our knobs.  In this case, it is possible to make the knob fit by grinding down the Bakelite on the base of the knob (that part that comes in contact with the lid) with a belt sander.