One of the most common questions we get is whether we carry replacement lids for such and such a size Revere Ware piece.
We don't carry any lids (just the knobs), and the official source for Revere Ware, World Kitchen, sells all of one of the traditional copper bottom lid sizes now.
The solution is to tap into the robust marked for used Revere Ware lids on eBay.  We've had an eBay helper site for Revere Ware cookware for a number of years now; it separates listings on eBay out by type and size, and is updated every 30 minutes.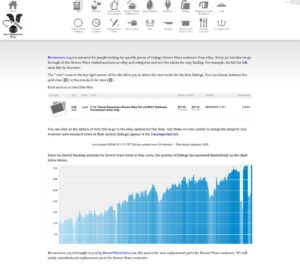 On the front page, we show a graph of the number of listings for Revere Ware items since 2009, which continues to grow; there is a very robust marketplace on eBay for just about anything Revere Ware.
When it comes to lids, there are a couple of considerations.  Here is our help text at the top of our lid listings page:
To find the right lid for your cookware, choose a size that is listed with measurements the same size or slightly smaller than the inside diameter of your cookware. Revere Ware lids are usually just slightly smaller than the cookware they fit. eBay listers will show this as anywhere from 1/16″ to 1/4 inch smaller than your cookware diameter. Very few Revere Ware pots in our experience have a diameter that is NOT a whole inch; exceptions we have found include a 6 1/4″ skillet (that takes a 6″ lid) and 5 1/2″ saucepans. However, based on auction listing we've seen, there do appear to be 6.5″ and 7.5″ sizes as well.

For example, lids listed measuring 5.25 (5 1/4), 5.3125 (5 5/16), 5.375 (5 3/8), 5.4375 (5 7/16), and 5.5 (5 1/2) inches are all probably the same size measured slightly differently by different sellers and should all fit a sauce pot with a 5.5″ inside diameter.
Which brings up another point – people typically ask, "do you have a lid for a 2 quart sauce pan."  That is a hard question to answer, given that Revere Ware altered the dimensions of their sauce pans and pots many times over the years.  A 2 quart pot can come in one of several diameters.
Use the instructions above to find the correct size.