It is very common for there to be issues when removing a knob from a Revere Ware lid.  In some cases, the knob itself is solid, but is simply stuck (rusted) onto the lid screw.  Trying to unscrew it can risk pulling the screw right off the lid, as the rust sometimes gets under the weld plate of the screw.  Take a look at this picture from our guide on what to do when this happens: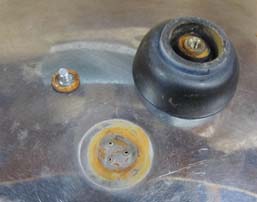 You can see how there is some rust under the screw weld plate (on the lid) and around the weld plate itself.
And sometimes, the Bakelite deteriorates from water and gunk getting up under the knob for prolonged periods, and when you twist the knob to get it off, you are left with a Bakelite covered nub that is the nut insert that was inside the knob.  That looks like this: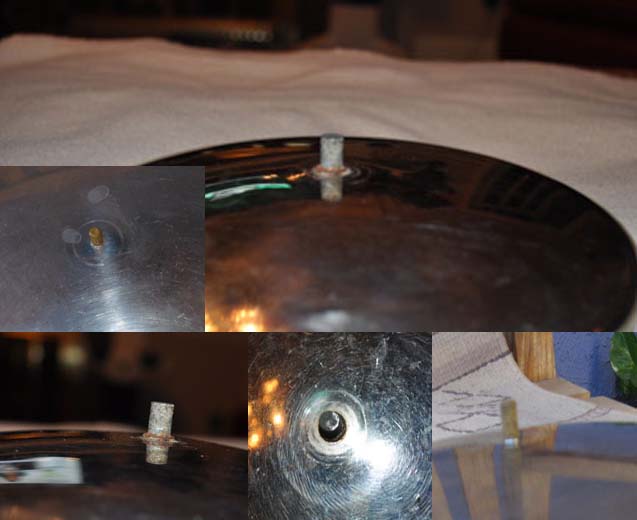 Blog reader Rick offers this excellent suggestion for removing a stuck on knob or nut insert:
I've found a method to remove the knob from the lid if it appears that it will twist off the weld stud because of corrosion between the stud and knob insert. I'd say that if the corrosion has reached this point, the knob needs replacing anyway, but beware that this method sacrifices the knob. If the knob has already broken away from the insert, and the threads in the insert are too corroded to remove from the stud, you can to to step 2.

1) Using a hacksaw, carefully cut right down the center of the knob until you reach the insert. Do a second cut at right angles to the first. Using two flat bladed screw drivers at opposite sides of a cut line, pry the knob and it will crack and fall away from the insert. Not very much pressure is required.

2) Again with the hacksaw, carefully cut a slot in the center of the insert until you reach a void spot in the center of the insert. The void is there because the stud does not go all the way to the end of the threaded portion of the insert. Spray or drip in some penetrating oil, and let sit for a few hours. Try removing the insert with a pair of vice grips. This has worked perfectly a number of times for me.