For years, we've seen a sales cycle that peaks around the holidays, and troughs in mid-summer.  Everything associated with our business follows this same cycle, so we are pretty sure it represents the level of interest people have in finding replacement parts for their cookware, and not something else.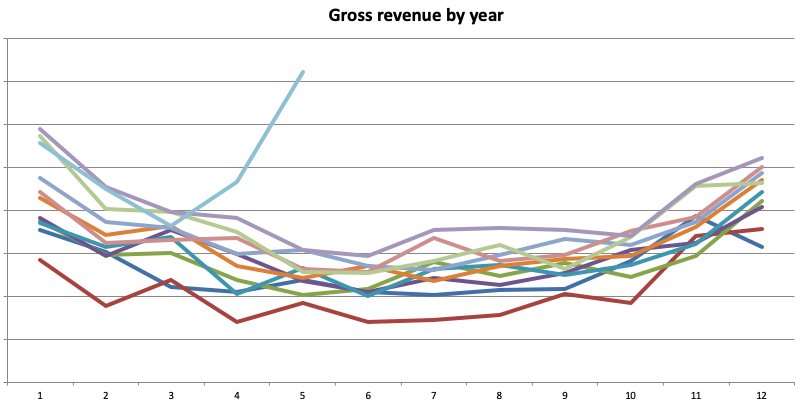 And then there is this year, the blue line above.  May was our best month we've ever had in 11 years, by a significant margin.
My best guess has been that the holidays bore an increase of sentimentality, which caused people to want to refurbish their Revere Ware, or perhaps do it as a gift for a loved one.  I'd also assumed that the increase in sales we are seeing in the last few months is because people have more time on their hands, and are doing things they have long put off.
In casual conversation with my mother yesterday, a very astute woman and practicing certified public accountant, I mentioned the cyclicality of our sales to her.  She immediately came up with the idea that the current sales increase is driven by the fact that people are cooking more now.
That sure make a lot of sense.  People do cook some pretty prominent meals during the holiday months, and people are preparing their own food more now, as we well know.
I tried to find studies about cooking at home (or restaurant sales) versus time of the year, but was unable to find any data to back up the new theory. Still, I like it better than my last theory. 🙂