Customer Chris emailed us recently with a question about the bottom of his Revere Ware pan
I just bought a few Revere skillets from a garage sale and the big one has a black coating on the bottom of the pan that is  peeling off. Should I try and get all of the black coating off or is there a way to keep it from peeling? What should I do? Thank you for your help!
Here is what the bottom looks like: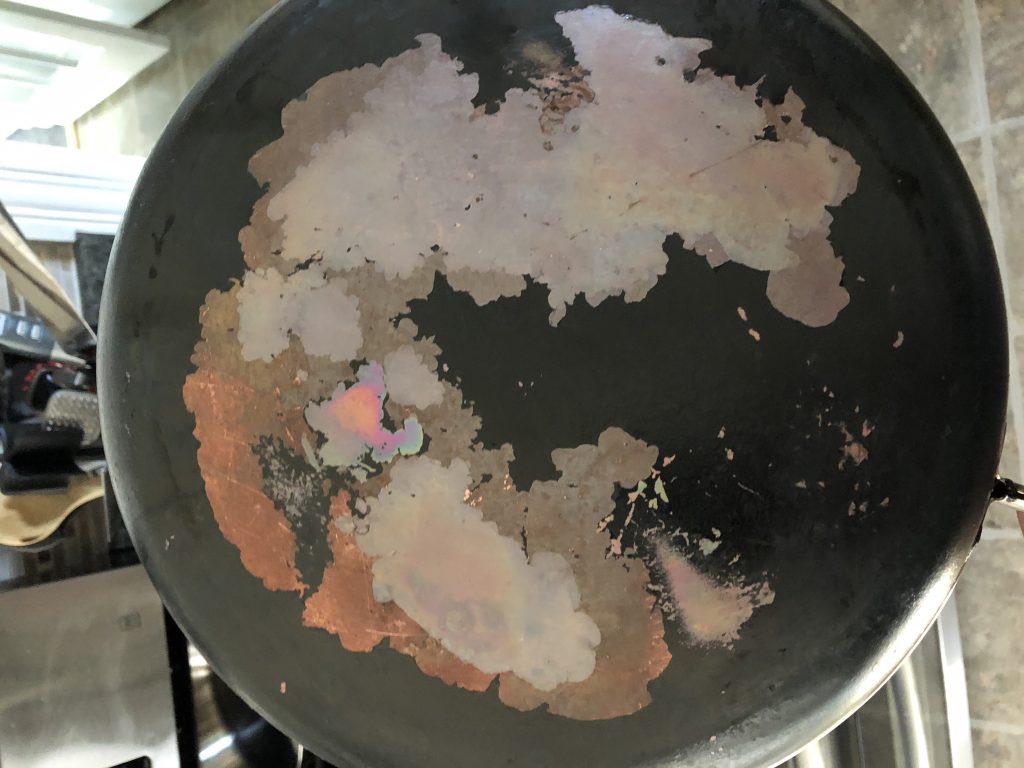 That definitely appears to be a newer style pan (post 1968, and from what I see happening to the bottom, probably much newer).  It appears to me that there is a layer of burnt carbon over the copper on the bottom.  The copper layer appears to be peeling off of the stainless core of the pan.
It used to be that Revere Ware made pans that had about equal amounts of copper and stainless on the bottom, and the pan was rather thick.  Post 1968, to save money,
they made the layers of both small.
Since that time, the quality has gotten really bad.  Some of the years they appear to have made the copper layer so thin that it just exists to make the pan look like the old style, but the copper layer wasn't thick enough to actually do anything (like spread the heat).  This appears to be one of those pans.  It is not uncommon for the copper layer to peel off for pans made like that, meaning, we've heard lots of stories of this happening.
The post-1968 Revere Ware is pretty hit and miss.  Some of it, while not as good as spreading the heat as the older vintage variety, still works fine as a stainless steel pan, and may never have problems like those above.  But, if you are looking to replace a piece, or start a collection, you are much better off searching for the
vintage
era cookware that has the
process patent stamp
on the bottom, like this: