If you've read just about anything on our site, you likely know that the quality of today's Revere Ware pales in comparison to that made in the pre-1968 era.  We've heard lots of stories of quality issues like the copper bottom falling off.  But let's say you don't care about the quality and just want a set of Revere Ware cookware because you like the look.  Is it cheaper to get a new set, or a used set from eBay.
Here is a new set on Amazon.com.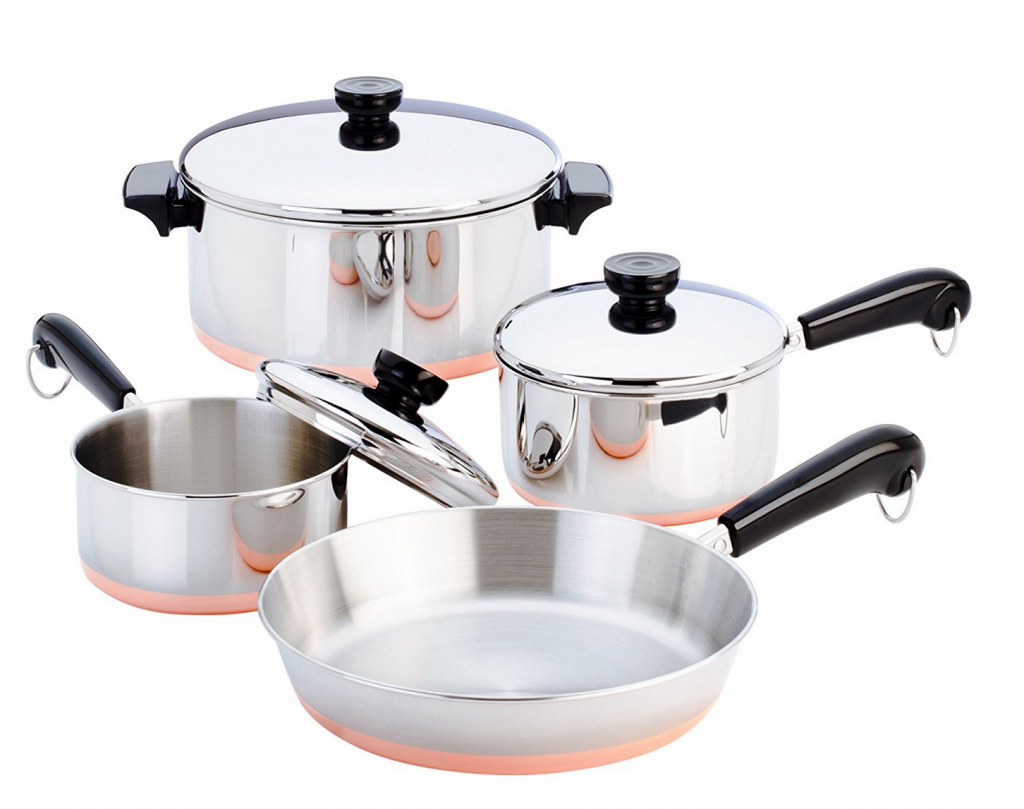 This set costs $95.55 with free Amazon Prime shipping an option if you are a Prime member.
Here is what we put together from eBay:
4.5 quart Dutch oven with lid: $33 shipped
9″ skillet with lid: $31 shipped
1.5 quart sauce pan with lid: $$20 shipped
1 quart sauce pan with lid: $20 shipped
That gives us a total of $104 shipped.  Withe the tax you'll likely pay on Amazon.com, and the potential to find better deals on eBay (there are lot of Revere Ware pieces listed at any given time) we'll call the costs roughly even.
If you wanted to replace all the handles and knobs, that would run you about another $50, although all the items we found on eBay had Bakelite handles and knobs that were in reasonable condition.
If you scoured your local thrift stores, you could likely find all the vintage Revere Ware items for much cheaper, but there is a time cost involved.
It seems to come down to preference – buy a set that will last a few years before it starts falling apart, or buy as set that will likely last many more decades and has a strong history to it.