The Revere Ware vintage 4-quart pressure cooker, made during the 40's and 50's, is a great pressure cooker and we've sold quite a few replacement gaskets to people who want to keep them cooking decades more.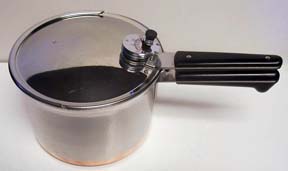 The biggest problem with these units is the lack of availability of over-pressure plugs in the lids.  These plugs are made with a hole through them filled with solder that will blow out at a certain pressure.  Once the over-pressure plug is blown, it is done and needs to be replaced with another.
One possibility is to convert the pressure cooker to use an over pressure plug that is still available.  Specifically, Revere Ware's model 1574 and 1576 pressure cookers use a simple rubber plug that fits in a 12mm hole in the lid.  These plugs are identical to Presto part 09915.
In theory, converting the vintage pressure cooker to use the new style plug should be easy – just drill out the hole for the current over pressure plug with a 12mm metal drill bit.  The vintage 4-quart pressure cooker has an operating pressure up to 15 lbs and the 157x models work up to 17.5 lbs.
Below are some comparison pictures between the vintage 4-quart and the 1574.
If anyone is going to attempt this conversion, please send us pictures and let us know the outcome.
As with anything pressure cooker related, we advise that you use caution.