We recently came across this Revere Ware brochure from sometime in the early to mid 40's.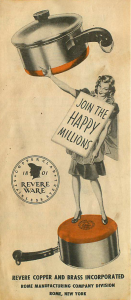 It includes this page on the pressure cooker:
I had no idea that the lip under which the top fits, also acts to direct the contents to either side for pouring, a neat feature.  I've since found this information in the Know Your Pressure Cooker brochure, but, interestingly, it isn't in the pressure cooker manual.