For years we had been buying our replacement glass percolator tops from TOPS, which makes a variety of generic replacement cookware parts.  A few years ago TOPS was sold to another company and we started buying the parts from them.  Our last order was received in November 2020.  As we started to get into the remainder of this order, we found that the packaging had changed.  You can see the older blue backed tops with the newer red backed tops here.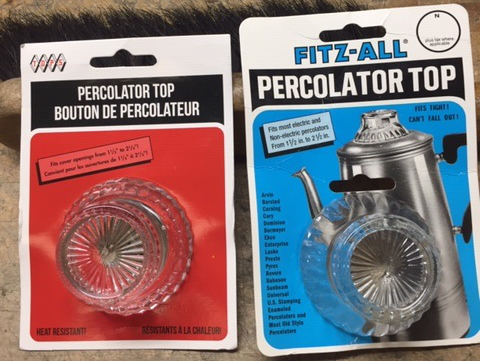 The replacement tops work by screwing an aluminum ring from the underside of the percolator lid onto the glass top. This allows them to work for a variety of percolator hole sizes. This part was made to fit holes between 1.5 and 2.5 inches.
Unfortunately, when they switched to the new manufacturing process sometime last year, the aluminum ring shrunk in size, and now comes on the red backed product at only 2 1/4 inches in diameter.  This makes it too small to fit Revere Ware percolators.
We have removed the inventory from our website for now, so it isn't possible to order this part through us.  We've alerted the company that makes the parts and are trying to find a resolution.  Given that the parts no longer meet the specifications printed on the product packaging, our hope is that they fix the process to produce the correct sized ring.
Stay tuned.