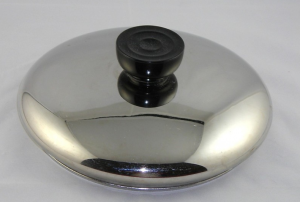 Revere Ware (aka World Kitchen) sells very few lids anymore for their copper bottom style cookware.  Our latest check shows two lids, a 10″ and one listed as fitting 2 and 3 quart saucepans.  For owners of vintage cookware, specifying lids by capacity means little as the sizes varied over the years for a given capacity.
By far the best places to get replacement lids for your copper bottom cookware are your local thrift store, where you can often find a large selection of lids, or Ebay, if you want to find a very specific size.  As of this writing, Ebay lists about 100 lids at auction.
We've created a site, revereware.org that sorts all Revere Ware listings on Ebay sorted by type and size, and you can find all the lids here.
To find the right lid for your cookware, choose a size that is listed with measurements the same size or slightly smaller than the inside diameter of your cookware. Revere Ware lids are usually just slightly smaller than the cookware they fit. Ebay listers will show this as anywhere from 1/16″ to 1/4 inch smaller than your cookware diameter.
Very few Revere Ware pots in our experience have a diameter that is NOT a whole inch; exceptions we have found include a 6 1/4″ skillet (that takes a 6″ lid) and 5 1/2″ saucepans. However, based on auction listing we've seen, there do appear to be 6.5″ and 7.5″ sizes as well.
For example, lids listed measuring 5.25 (5 1/4), 5.3125 (5 5/16), 5.375 (5 3/8), 5.4375 (5 7/16), and 5.5 (5 1/2) inches are all probably the same size measured slightly differently by different sellers and should all fit a sauce pot with a 5.5″ inside diameter.