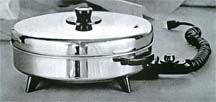 We don't have a lot of information on these skillets. Our best guess on when they were manufactured is somtime in the 1970's and/or 1980's. We've seen several varieties, including stainless steel inside, teflon coated inside, and witha large domed top.
One of the nice features of these electric skillets is that once the power cord is removed, the skillet itself is submersible.
Manual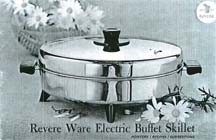 (Click on the picture)
Power Controls/Cords
We haven't seen replacement parts for these skillets through any official channels. These skillets use a power cord/control configuration that was popular at the time of their manufacture and was used by many other vendors, including Sunbeam and Presto.
One customer informed us that the Control Master heat control Model 21523 (availalable here) is a suitable replacement.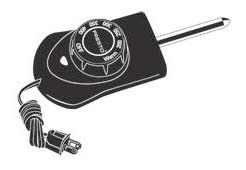 The PR100 model replacement heat probe and control (available from Amazon.com here) is also be a suitable replacement.  We've personally tried this one out.  However, recently a reader mentioned that this model didn't work for them, so there may be variations of the electric skillets that require different controls.  Update 10/17/22: the PR100 model appears to be out of stock everywhere, but there are some available on eBay.