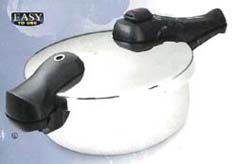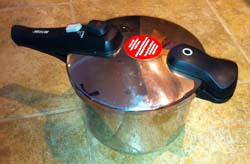 This style Revere Ware pressure cooker, which as far as we can tell was sold during the 1900's and possibly later.
There is no model number on either the pressure cooker, box, or manual, and it is simply called a "Revere Ware stainless steel pressure cooker.
It appears to have come in 3 quart and 6 quart varieties that differed only in height.
We've been able to find very little information on this pressure cooker; almost all of what we have is from a new-in-box specimen we found. It seems very likely that like the Meal-n-Minutes electric pressure cooker from around this time, this pressure cooker was produced by another company and resold under the Revere Ware brand. The good news is that makes it more likely to find replacement parts if the original manufacturer can be identified.
Along those lines, this pressure looks remarkably similar to a line of Chef"s Design pressure cookers, apparently differing only in height (and capacity).
The bottom of the pressure cooker shows the numbers "18/10 stainless steel", "6 QT / 5.7 L" (or "3 QT / 2.8 L"), "001", and "Made in China".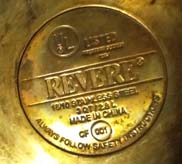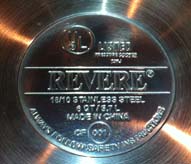 This pressure cooker is further characterized by swap-able pressure "weights", one green (8 psi) and one red (12 psi).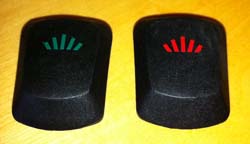 Instruction Manual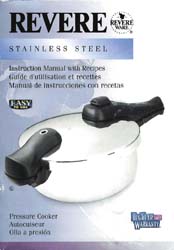 (Click on the image)
Given the similarity to the Chef's Design pressure cookers, the manual for those might be useful as well.
Gasket
Original gaskets are not available from Revere Ware. Given the similarity to the Chef's Design pressure cookers, the gaskets for those appear to be an exact match in size and fit. You can find the gaskets here, with the # 80 sealing ring being the one that is the correct part.
Gasket care
Hand wash the gasket and dry it thoroughly after every use. Store it removed from the lid. Don't put your gasket in the dishwasher.
For more thorough information in gaskets, their care, long term storage, and prolonging their life, check out the gasket page at MissVickie.com or here if that page is not available.