Revere Ware is most well known for its copper bottom cookware.  An often overlooked variety is the aluminum core Tri-Ply cookware, which has an aluminum disk on the bottom of the piece sandwiched between an inner and outer stainless steel shell.  An aluminum core is what most high-end cookware uses today to spread the heat out evenly.
The bottoms of these Tri-Ply pieces can be identified by the protruding disc on the bottom.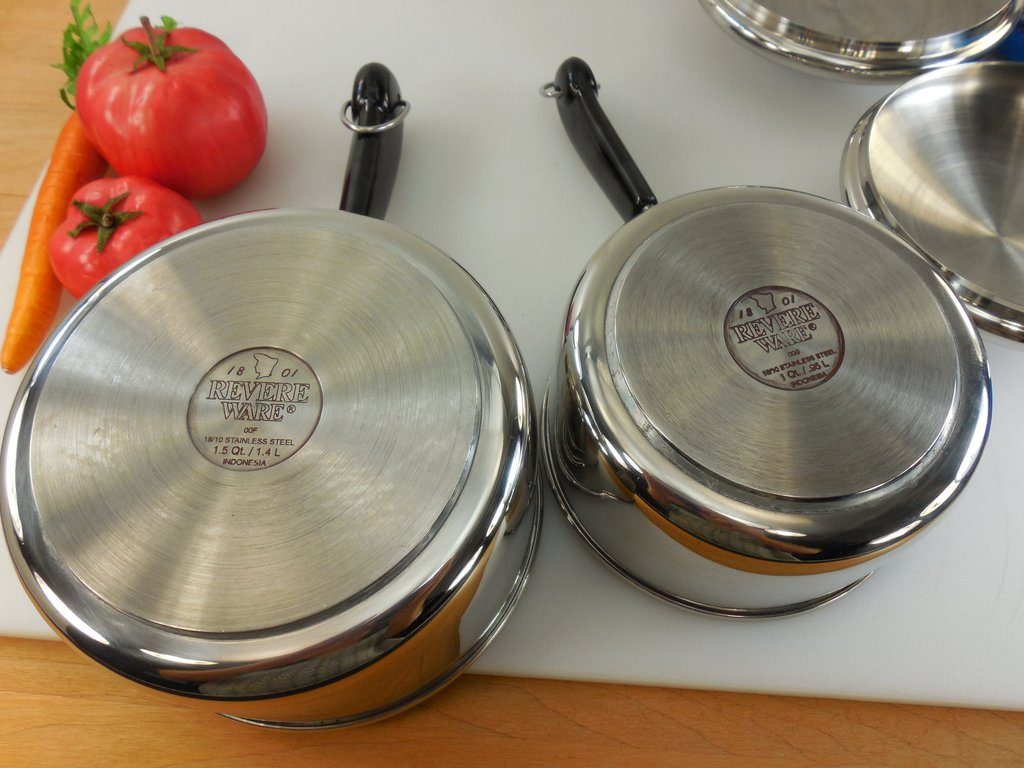 Here what our photo guide has to say about Tri-Ply cookware:
Kitchen technology changed in the mid 1980's with the introduction of the smooth glass/ceramic cooktop surfaces. These surfaces used embedded thermostats requiring cookware with thick, cast metal bottoms (as opposed to the pressed steel or electroplated bottoms used by Revere Ware). In March of 1986, Revere responded with the Aluminum Disc Bottom Cookware, sometimes called "tri-ply" or "slab bottom" (identified internally as the 2000 line). It continued the classic Revere Ware styling of the earlier 1400 and 7000 lines, but used a stainless steel coated aluminum disc brazed to the bottom of each piece allowing for use on smooth cooktops (and giving it the heat dispersion capability needed for use on conventional cooktops. Initially, the discs were brazed and buffed in Korea, and the final product assembled at Clinton. Later the entire production process was moved to Clinton. The line was an immediate success, amounting to 20% Revere's total cookware sales in 1986.
The aluminum disk is actually quite think and pretty effective at spreading the heat.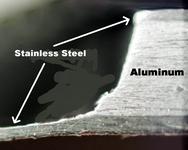 Because of the construction, these pieces are suitable for glass top stoves, as they are much more likely than the copper bottom variety to remain flat.
There is some danger though.  We continue to receive more and more reports of the aluminum disk separating, dumping out molten aluminum.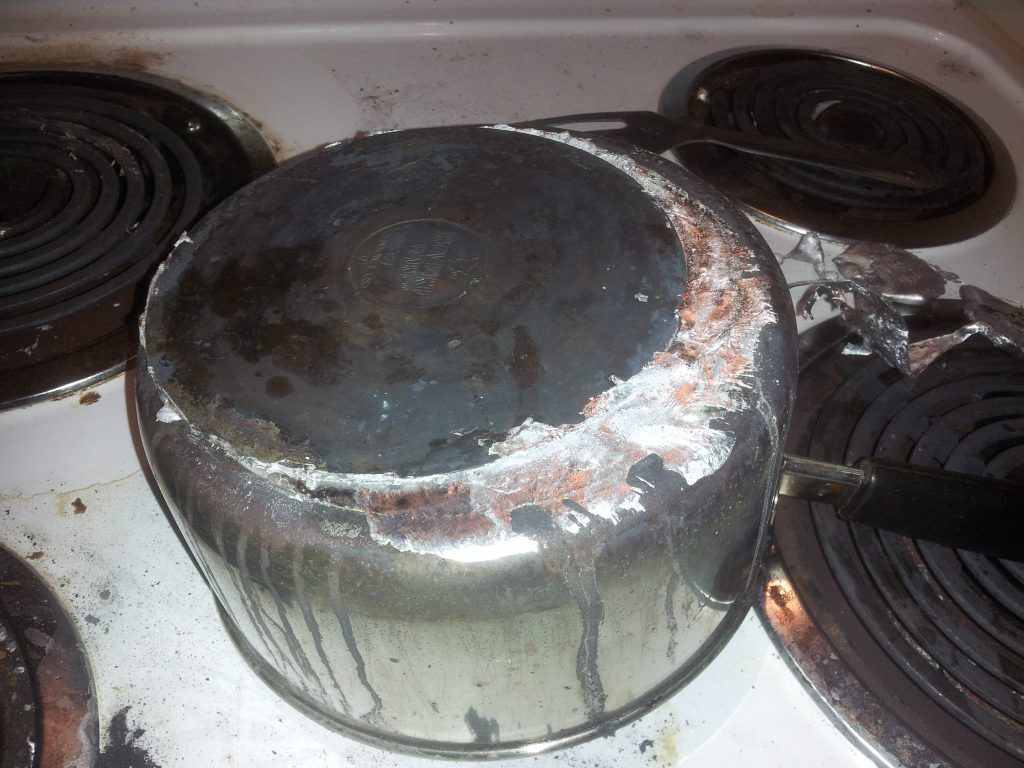 At best, this can damage your cook-top, flooring, etc..  At worst, it cause injury.  It isn't clear if these failures occur due to extreme overheating, or just normal cooking.  We've gotten enough reports that we can no longer recommend people use this line that has the disk.
There were other versions of Revere Ware deemed Tri-Ply as well, that contained a carbon steel core between two stainless steel layers.  They were made to look like the tradition Revere Ware pans, sans the copper bottom.  While the aluminum disk variety over these are likely better at spreading the heat, I wouldn't consider them safe anymore.  So if you want the Tri-Ply line, use the one with the embedded core.  The carbon steel / embedded core variety will not have the round disc on the bottom.