A customer wrote us with the following question:
Can my 62 year old Revere Ware "pasta-pot" be copper re-coated ?  I had boiled water dry.
The short answer is no, not that we know of.  We have never heard of a service (or a process) that does this.  There is something somewhat similar for copper cookware, called re-tinning, but that is a very different process and doesn't apply here.
We have done tests specifically where we heated a dry pan to see what would happen.  And indeed, some of the copper came off.  However, the older, well-made cookware (and 62 years old fits squarely in that category) has a pretty thick copper layer: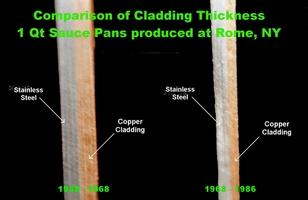 In our experiment, the amount of copper that came off was minimal given the overall thickness of the layer.
Having said that, if you are seeing stainless steel through the copper layer, I would thank your pan for many years of good service, and find yourself a vintage replacement.  You can find a robust market for used Revere Ware cookware on eBay, and using our helper site, can likely find a replacement for just about anything.